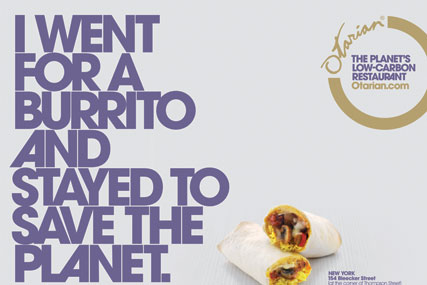 Otarian, which will be completely vegetarian and claims to be the world's first chain to carbon footprint every menu item to international standards, appointed Ogilvy to handle its advertising, without a pitch, earlier this year.

The agency has now created an outdoor, press, radio and digital ad campaign, which will be rolled out next Saturday (17 April) to coincide with the opening of the first branch on New York's 8th Avenue.

Branches will follow in London in June, with restaurants on Shaftesbury Avenue and Wardour Street.

Ogilvy's ad campaign focuses on the ethical benefits of the restaurant, as well as showcasing the variety of food on offer.

Press ads display shots of a selected item on the menu, accompanied by a strapline such as: "I went for a burrito and stayed to save the planet."

The ads will run in publications including the Metro, the London Evening Standard and Time Out, as well as on London Underground and bus shelter sites.

Hugh Baillie, the chief executive of Ogilvy Advertising, said: "Otarian's proposition is hugely compelling from a communications perspective, and gives us the chance to create some great work in a fast-developing business sector."