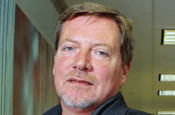 In an announcement, Ogilvy revealed last week that the four new creative partners - Will Awdry, Greg Burke, Alasdair Graham and Dennis Lewis - would report to the agency's managing director, Guy Lambert.
However, after a series of internal discussions between the creatives and senior management, the creative partners will now report to Gary Leih, the chairman and chief executive of Ogilvy Group.
Leih confirmed that the creative partners will have equal status with Lambert and that the five of them will sit on a newly created agency management board.
According to an insider, the changes were instigated after Lambert's now infamous agency meeting in which he introduced the concept of free-thinking Fridays (dubbed Freaky Fridays by the agency's creatives) and played a video of Madonna to show that you can be big and old, but still reinvent yourself.
The source said the creative partners were concerned that they had not been consulted over the content of the meeting, and that to the outside world it might appear that the department was not being run by creatives.
Under the new structure, the four creative partners will have equal seniority. However, as Burke and Lewis are responsible for running some of the agency's biggest clients such as Ford Europe and American Express Worldwide, Awdry and Graham will have day-to-day responsibility for running the department.
Meanwhile, Poynton is still in negotiations with Ogilvy about the terms of his departure. The discussions are set to conclude this week and Poynton is expected to leave at the end of the month.
Leih confirmed that Poynton would not be replaced in the role of executive creative director, but he declined to comment on speculation that his future plan is to appoint an executive creative director across Ogilvy Group.