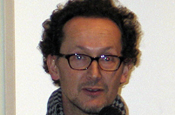 Human will report to Steve Hayden, the Ogilvy & Mather Worldwide vice-chairman.

In his new role, Human will work across all of the Unilever brands handled by the network, but will have a particular focus on Dove.

During his career, Human has won 31 Cannes Lions. Under his leadership, Ogilvy was the most awarded South African agency at the Loeries and Cannes in 2008. He was promoted to his current role last year, overseeing 13 operating units in South Africa.

Gary Leih, the chairman and chief executive of Ogilvy Group UK, said: "This is a very exciting development for all of us. Not only is he one of South Africa's most awarded creative directors, he's a great guy too."

The appointment follows news that Ogilvy Group in North America has cut around 150 staff, or almost 10 per cent of its workforce.

The redundancies have affected agencies including Ogilvy & Mather, OgilvyOne and Ogilvy Interactive.