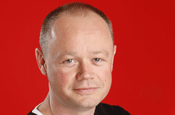 Wilson and de la Fosse will work with OgilvyOne's executive creative director Colin Nimick and chief executive Annette King.
The pair will also work on the creative output of OgilvyInteractive, after creative director Bo Hellberg's role was made redundant last month.
Wilson and de la Fosse have both been at OgilvyOne for 11 years, working on major campaigns for British Gas, IBM and Cancer Research UK.
Also as part of the restructure, Jethro Ferguson, the team leader on the American Express International interactive account, will take on the role of head of digital.
In addition, Chris Slough, the joint head of client service, and Richard Barker, the business partner on the agency's IBM account, will take responsibility for leading digital innovation, working across OgilvyOne's digital planning and buying operation Neo@Ogilvy and its recently-established mobile division.
King said: "Our new senior management structure will ensure we stay ahead of the game, and I'm thrilled that we can give the talent that we already have at OgilvyOne the freedom to help us do that."