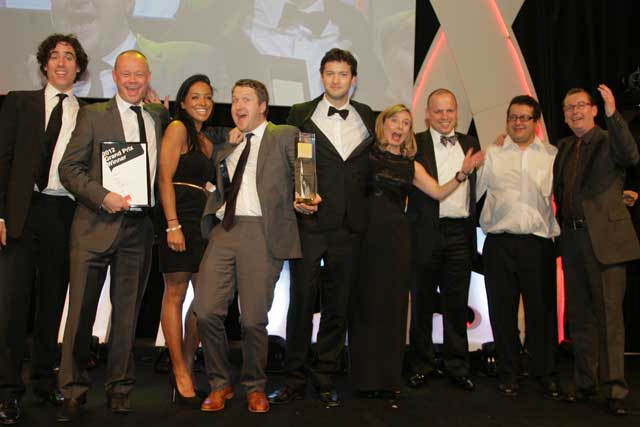 The winning campaign for the manufacturer, Kern & Sohn, produced a return on investment of 1,042%.
OgilvyOne's strategy was to send Kern & Sohn customers and scientists around the world a kit containing a set of scales and a garden gnome to test the theory that gravitational pull varies in strength depending on where you are in the world.
The agency created a website, GnomeExperiement.com, which attracted links from 16,386 websites two weeks into the campaign, while the news story reached an audience of more than 355 million in 152 countries.
Wayne Hemingway, the British designer who chaired the judges, said: "I'd like to congratulate OgilvyOne UK on their victor for what was a truly sublime campaign. It's amazing what you can achieve with a gnome and a little creative ingenuity."
OgilvyOne won a total of 10 Golds, ahead of Proximity London's four.
List of Gold winners
Category
Client
Agency
Automotive
Bentley Motors
Targetbase Claydon Heeley
Travel and holidays
Tourism Ireland
Indicia
IT and telecommunications
Intel
MRM Meteorite
Retail
Ikea
Lida
Financial services
Mini Finance
Lida
Public sector and charity
Battersea Dogs and Cats Home
MRM Meteorite
FMCG
Kraft
Proximity London
B2B
Kern & Sohn
OgilvyOne UK
B2C
News International
Partners Andrews Aldridge
Best use of email marketing
Starbucks
Kitcatt Nohr Digitas
Best use of eCRM
HMV
CreatorMail
Best website or landing page
Kern & Sohn
OgilvyOne UK
Best online display advertising
Drinkaware
OgilvyOne UK
Best use of search, natural and paid for
Kern & Sohn
OgilvyOne UK
Best use of social media for brand building
Kern & Sohn
OgilvyOne UK
Best use of social media for customer acquisition
P&G
Proximity London
Best direct response television and radio advertising
Warner Leisure Hotels
Mike Colling and Company Limited
Best direct response print advertising and inserts
Warner Leisure Hotels
Mike Colling and Company Ltd
Best use of door drops
The Royal British Legion
Tangible
Best use of experiential
Carte Noire Instant Coffee
Arc UK
Best design or art direction
Lürzer's International Archive
Arc UK
Best data strategy
HMV
CreatorMail
Best use of data in a digital campaign
T-Mobile
Fuel
Best brand building campaign
Kern & Sohn
OgilvyOne UK
Best customer acquisition campaign
Waitrose
Kitcatt Nohr Digitas and Manning Gottlieb OMD
Best use of new technology
P&G
Proximity London
Best customer journey
Thomson/TUI UK
CreatorMail
Best user experience
FRijj Milkshakes
iris Nation Worldwide Ltd
Best integrated campaign
Kern & Sohn
Ogilvy One UK
Best launch campaign
Sony Music/Syco
archilbald ingall stretton
Best small budget campaign
Kern & Sohn
OgilvyOne UK
Best creative solution or innovation
Kern & Sohn
OgilvyOne UK
Best loyalty programme or campaign
P&G
Proximity London
Best use of 2012 summer of sport
Royal Mail Stamps and Collectibles
Beta London
Best use of direct mail
Kern & Sohn
OgilvyOne UK