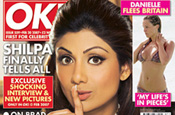 Those who contacted the ASA also pointed to the ban on advertising milk for babies under the age of six months.
The image has been referred to the Food Standards Agency by the National Childbirth Trust and Save the Children. They, too, cited product placement and that the article was followed by an SMA ad for follow-on milk for older babies.
The ASA said editorial content and product placement do not fall within its remit, and that it is referring the ad to Trading Standards.
SMA denied that Jordan is an ambassador for, or endorser of, its products.