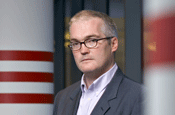 Nick Gill, the BBH creative director, has been promoted to replace him as executive creative director, with Rosie Arnold, another creative director, becoming his deputy.

In his new role, reporting directly to Sir Martin Sorrell, the chief executive of WPP, O'Keeffe will be responsible for improving creative standards across all of WPP's global companies and clients.

O'Keeffe said: "Most people presumed I was a BBH lifer, and I suppose I did as well, but Martin was so charming I thought 'if I don't take this offer now, I will be here for life'. It's a bigger role and it allows me to get a truly global perspective on the industry."

Sorrell added: "WPP continues to build its creative capabilities across all its services. John is a unique talent. He will accelerate this process and help us ensure that creative capabilities and resources are at the heart of what we do."

Ben Fennell, the managing director of BBH, said: "John has achieved it all in the UK and this is a great move for him, but it is brilliant to have successors waiting to step up."

WPP's most high-profile worldwide creative director was Neil French, who retired in October 2005. His role was taken up by Robyn Putter in March 2006.

O'Keeffe started his career at Saatchi & Saatchi in 1984 where he worked on clients such as NSPCC and Swan Lager. In 1990 he joined BBH, where he produced award-winning work for Audi, One2One and Levi's. He was promoted to executive creative director in 2000.

During his time running the creative department, BBH won three straight Campaign Agency of the Year awards, between 2003 and 2005.

Gill joined BBH in 1998 and was promoted to the board in 1999. He is currently the creative director on the global Vodafone business. Arnold joined in 1983 and for the past ten years has been the creative director responsible for Lynx/Axe.