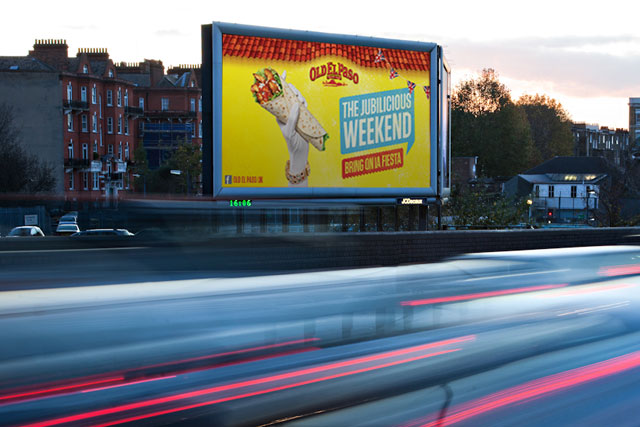 The campaign, which was planned by UM London, will use the tagline 'Bring on the Jubilicious weekend!' and branded messages on the screens at the official Jubilee viewing will encourage the crowd to perform a celebratory Mexican wave.
A targeted outdoor campaign, which was bought with Posterscope, will run across roadside and London Underground 48-sheets, T-sides on London buses and JCDecaux's Transvision screens in rail stations, from next Monday (28 May).
Laura Sweeney, business director at UM London, said: "Our brand strategy for 2012 has sociability and conviviality at its core so we've embedded this in the fabric of the plan. We're using media to position Old El Paso at the centre of the celebrations, both in the heart of London through our outdoor plan and in the buzz of conversation online."
At Work Club, which produced the outdoor ads, the creatives were Ben Mooge and Andy Sandoz, and the strategist was Paddy Griffith.
A repurposed TV ad, by Saatchi & Saatchi with art direction by Phil Clarke and copy direction by Paul Ewen, launched last night (21 May) and Old El Paso's Facebook activity will be modified by UM London to include the Jubilee messaging from next week.
Ed Culf, marketing director at General Mills, said the campaign was the start of a "fresh and exciting new communications approach" for Old El Paso.
He said: "The brand sits at the heart of friend and family occasions, so the Jubilee weekend, as the kick-off event to the 'Summer of Euphoria', is the perfect time to engage our consumers."
Mooge said: "The Old El Paso brand should be as bold and colourful as its ingredients and its heritage - we want to see friends and families all over Britain proudly holding their fajitas aloft at the weekend, and that includes a certain special family on their long weekend ..."
Follow Maisie McCabe on Twitter @MaisieMcCabe