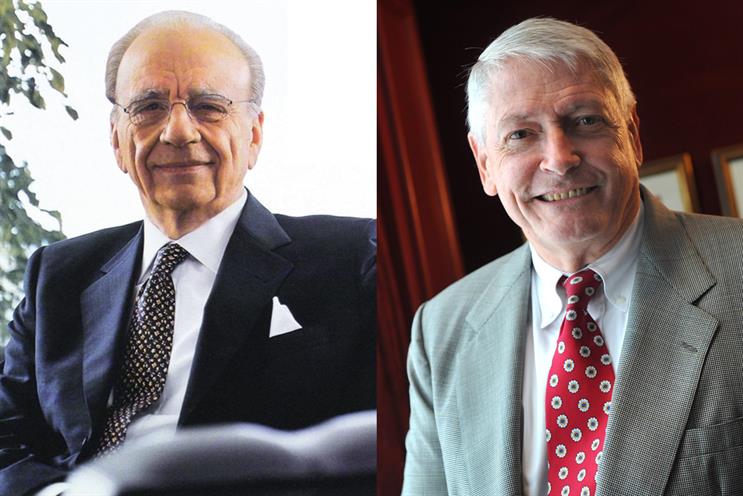 Rupert Murdoch and John Malone showed last week that Maurice Lévy and John Wren are not the only ageing moguls still working on their legacy.
First, it emerged that Murdoch, the 83-year-old chairman and chief executive of 21st Century Fox, the entertainment business spun out ?of News Corporation last year, had made an "audacious" $80 billion (£47 billion) bid for its rival Time Warner.
The next day, Liberty Global, which is chaired by Malone, 73, increased its UK presence by buying BSkyB's remaining 6.4 per cent stake in ITV.
Analysts were united in the assumption that both men are eager to keep pushing their empires forward.
"Time is marching on," Lorna Tilbian, the executive director and head of media at Numis Securities, says.
"Look at Warren Buffett buying Bank of America [amid the financial crisis in 2011]. People become less risk-averse as they get older because they are desperate to achieve."
But it is not all about personality and ego. Both companies are also navigating the wider structural changes in the content business. Time Warner owns HBO, which produces high-quality dramas such as Mad Men and Game Of Thrones. Control of the most sought-after programmes is seen as crucial to the future of more traditional broadcasters (such as Fox) ?as Netflix eats away at their business model.
No-one expects this to be the end of Fox's play. But it seems that Time Warner and its chief executive, Jeffrey ?Bewkes, are unmoved by Murdoch's charms so far. ?Bewkes said firmly that continuing to execute Time Warner's strategic plan would create "significantly more value" for the business and its shareholders and was "superior" to any proposal that Fox is in a position to offer.
Fox's expansion sets the backdrop for the sale of Sky's stake in ITV – Fox owns 39.1 per cent of Sky. There is more background noise in the form of Sky's proposed merger with Sky Deutschland and Sky Italia to form Sky Europe.
Sky insists it was simply a good time to sell after being forced to offload the majority of its stake in 2010 after the Court of Appeal upheld a Competition Commission ruling. Sky made just £196 million in 2010 as ITV's share price languished around 51p, but received 185p a share (and a total of £481 million) from last week's sale.
Liberty Global appears to be rekindling the interest that NTL, the predecessor of ?Virgin Media, showed eight years ago. After all, Sky only bought its initial stake in ?ITV after NTL launched a £4.7 billion bid for the ?broadcaster. But, with Liberty Global saying that it does ?not intend to make an offer for the business, no move appears imminent.
Under stock-market rules, Liberty Global is now not ?allowed to bid for ITV in the next six months, unless either the broadcaster agrees a deal or a third party makes its own offer. But analysts expect ?Liberty Global to come back for more.
"There is a logic for doing the deal," Ian Whittaker, the head of European media research at Liberum Capital, says. "It's not going to be in the short term, but it's more likely in the long term."