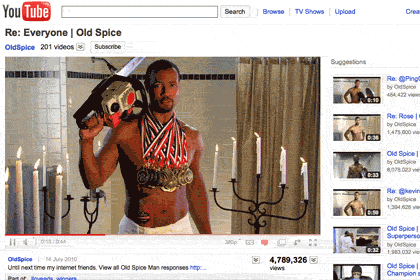 The Old Spice 'responses' ad by Wieden & Kennedy Portland became a digital sensation earlier this year when the ad's star, Isaiah Mustafa, created customised content for Twitter, responding to queries from the general public, which were incorporated on YouTube.
W&K and VCCP are the most nominated agencies, with three shortlisted ads apiece. See the shortlist below.
The winner will be announced at the
Campaign Media Awards
on 17 November 2010.
A panel of marketers and agency practitioners
, including Mumsnet co-founder Justine Roberts and Mark Simpson, marketing director of Ford of Great Britain, chose the shortlist of 28 entries.
YouTube viewers are picking the overall winner, with
voting open
until 6pm today.
Entries included digital-only ads such as Johnnie Walker's The Man Who Walked Around the World, which made the shortlist, as well as TV ads that have run on the channel.
"We wanted to showcase the professionalism and creativity of the long-form ad content as well as shorter executions that consumers can experience on YouTube," says Bruce Daisley, YouTube sales leader.
To view the ads on the shortlist and to vote, go to
youtube.com/iloveads
.
For information on attending the Campaign Media Awards on 17 November, please email Adele Durham on adele.durham@haymarket.com.
Shortlist (A-Z by brand)
Brand:
Arriva
Execution:
Mukhtar's birthday
Credit:
Kadaver Bybird
Brand:
AT&T
Execution:
AT&T winner in the 2010 MOFILM Barcelona contest
Credit:
MOFILM Barcelona
Brand:
Canal+
Execution:
Canal+ Closet
Credit:
BETC Euro RSCG, Paris
Brand:
Carlsberg
Execution:
Carlsberg team talk
Credit:
Saatchi & Saatchi
Brand:
Comparethemarket.com
Execution:
Launch ad
Credit:
VCCP
Brand:
European Golf Tour
Execution:
Gong
Credit:
Saatchi & Saatchi
Brand:
The Expendables
Execution:
The Expendables YouTube page takeover
Credit:
The Visionaire Group
Brand:
Foster's
Execution:
Good call!
Credit:
Adam & Eve
Brand:
Hi-Tec
Execution:
Liquid mountaineering
Credit:
CCCP (Amsterdam)
Brand:
Home Office
Execution:
Street dares
Credit:
VCCP
Brand:
John Lewis
Execution:
Never knowingly undersold
Credit:
Adam & Eve
Brand:
Johnnie Walker
Execution:
The man who walked around the world
Credit:
Bartle Bogle Hegarty
Brand:
Nike
Execution:
Write the future
Credit:
W&K Amsterdam
Brand:
Nokia N8
Execution:
Dot.mov
Credit:
W&K London
Brand:
O2
Execution:
Gorillaz
Credit:
VCCP
Brand:
Old Spice
Execution:
The best your man could smell like ('responses')
Credit:
W&K Portland
Brand:
Pfizer
Execution:
Get real, get a prescription
Credit:
Langland
Brand:
Philips
Execution:
Parallel lines
Credit:
DDB
Brand:
Samsung
Execution:
Extreme Sheep LED
Credit:
The Viral Factory
Brand:
Shelter
Execution:
House of Cards
Credit:
Leo Burnett London
Brand:
Sony
Execution:
Get a job on Pocket TV
Credit:
Iris
Brand:
Strongbow (Bankers)
Execution:
Strongbow Bankers Honours
Credit:
St Lukes
Brand:
The Sun
Execution:
4.0 viral
Credit:
Glue Isobar
Brand:
Sussex Safer Roads
Execution:
Embrace life – always wear your seat belt
Credit:
Daniel Cox (writer and director), Sarah Alexander (producer)
Brand:
Tipp-ex
Execution:
Hunter shoots a bear
Credit:
Buzzman (Paris)
Brand:
Visit Sweden
Execution:
Dave goes to Skane
Credit:
Glue Isobar
Brand:
WaterAid
Execution:
'Poo' viral
Credit:
Kitcatt Nohr Alexander Shaw
Brand:
Xbox 360
Execution:
Alpine legend
Credit:
AKQA