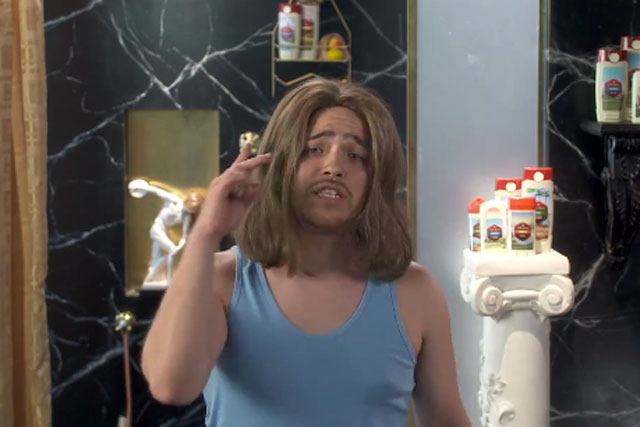 The online ads, created by Wieden+Kennedy Portland, have been posted on the Old Spice YouTube channel.
New hunk Fabio challenged Old Spice Guy Mustafa to a duel yesterday.
One ad features Mustafa talking to Fabio directly through the camera, saying "Hello Fabio. Call me crazy but I have a sneaky suspicion is that you are not actually Fabio.
"In fact I am certain that you are not Fabio as I am certain that is a creepy baby prop but I can't prove your not Fabio officially so therefore I think you may have won".
Another ad introduces a rapping Fabio look-alike, while others feature both Mustafa and Fabio separately answering questions posted on Twitter and Facebook from Beach Body Tony and KevKill, among others.
In the final execution Mustafa apologies to "ladies and handsomely men" for his absence from "planet earth" and for any "anxiety it might have caused".
He says he has been watching from a distance but "not in a creepy way" and "only in public places at appropriate times from afar like a big brother/superhero life figure minus the biological relation who cares about your safety deeply."
Mustafa then challenges Fabio to a duel at noon eastern standard time (5pm GMT).
Viewers have been asked to vote for who they think should win the duel via Twitter and Facebook. The winner has yet to be announced.