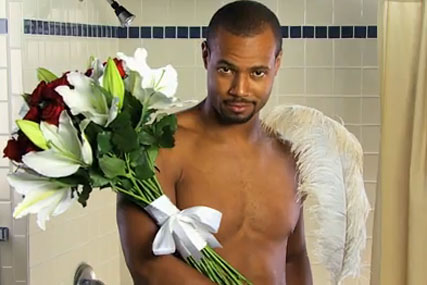 Wieden + Kennedy Portland scooped the top creative honour last month for its US TV ads for the Procter & Gamble brand, starring fast-talking, muscle-bound former American Football player Isiah Mustafa as a "The man your man could smell like".
It has now created more than 100 short clips featuring Mustafa in the shower and talking to a camera, but this time addressing individual Twitter users famous in the US, such as actress Alyssa Milano.
In the third of three clips tweeted to her, he flirts with her with a bunch of flowers in his arms while handwriting a letter with a massive feathered quill.
After Starbucks tweeted him to say "You look cold, need some coffee", he filmed a response saying "Thank you Starbucks for your offer, but I like to keep myself warm by boiling a large pot of water, putting a handful of uncooked lobster tortellini in my mouth and dunking my head in it for 12 to 14 minutes until the tasty seafood delight starts melting in my mouth."


In another to GQ, he responds to the magazine's positive review of the Old Spice ads while wearing a tie.



All the clips can be seen on the Old Spice YouTube channel.
Read more on Brand Republic's digital blog The Wall