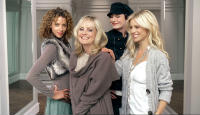 The research carried out by YouGov on behalf of Senioragency, the specialist 50-plus marketing firm, discovered that 46% of older consumers are actively turned off by celebrities fronting ad campaigns while only 11% of thought more positively. The remaining 39% were ambivalent.
According to Dick Lumsden, managing director at Senioragency the senior consumer group is a tough audience to win over. 'They are, in the main, sophisticated consumers who know what they want and base their buying decisions on hard fact rather than celebrity endorsement. Humour and entertainment it would seem, come secondary to product information,' he said.
The poll of 1322 consumers also found out that 51% believed the majority of today's advertising was patronising and 64% believed most ads were trying too hard to entertain and were not giving enough information.
However from 622 women polled, although 54% said they had no role model, those who voted named Twiggy who appears on the M&S ad as their top role model. Of the remaining men, 43% said they had no role model, but of those who voted they named Richard Branson as their top role model. (Below for top 10 lists).
The latest results would seem to suggest then that the senior market still remains untapped. Although many brands toning down celebrity ads would prove detrimental to younger markets, forgetting about the older generations could prove even more costly. The balancing act has never been so poignant.
Men
1 Richard Branson
2 Michael Palin
3 Stephen Fry
4 Jeremy Clarkson
5 Alan Sugar
6 Paul McCartney
7 Peter Kay
8 Jeremy Paxman
9 Tiger Woods
10 Johnny Wilkinson
Women
1 Twiggy
2 JK Rowling
3 The Queen
4 Nigella Lawson
5 Sharon Osbourne
6 Janet Street Porter
7 Kylie Minogue
8 Madonna
9 Katherine Jenkins
10 Sarah Ferguson