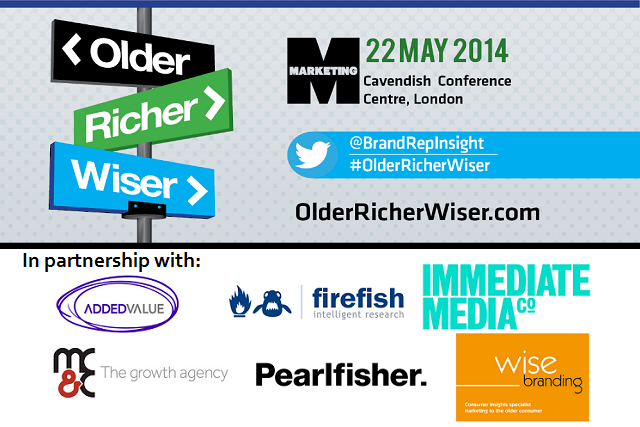 Panellists speaking at Marketing's 'Older, Richer, Wiser' conference have warned of the misapprehensions brands face when targeting the over-50s. It seems that brands often wrongly assume that they can be more easily exploited than other age groups. In reality, however, they couldn't be more wrong. People in the 50-plus category are far more discerning and demanding than any other age range.
Lucy Cox, associate director of Added Value, formed part of a myth-exploding panel alongside marketing directors from Anglican Home Improvements, The AA, Audley Retirement, The Telegraph Media Group, to debate 'The Mature Market revealed: Facts and Fiction, exploring how people are redefining mature age groups and embracing the future.
Michael Cutbill, the AA's marketing director, told the audience that "typically, it is the organisations that target a wide range of ages that tend to get it most wrong" when it comes to marketing to the over-50s.
Furthermore, Martin Troughton, marketing director of Anglian Home Improvements said that older people's troubled relationship with technology was a common misconception. Once his company scratched beneath the surface, they found that the over-50s were doing their due diligence on Anglian online but were phoning the call centre to make the purchase.
"The over-50s didn't feel comfortable committing to us online [and were more likely to phone to make a purchase], but that's where they did their research," said Troughton.
Winding down
Another misconception that was blown out of the water at this year's event was that retirement and old age is a time for winding down.
Firefish – the independent research agency - delivered a live insight session that was moderated by Rebekah Yock and Serena Scott. The session gave the audience a real-world view into the hearts and minds of mature customers and the fact that they no longer see retirement as a chance to wind-down but more as a chance to rediscover and reinvent themselves.
Many 'grans' are called on by their children to look after grandchildren as the cost of childcare becomes prohibitively expensive
This theme was enhanced by a presentation from Gigi Eligoloff, founder of Gransnet, who proved her audience was younger, richer and more tech-savvy than people often gave them credit for. Moreover, many 'grans' are called on by their children to look after grandchildren as the cost of childcare becomes prohibitively expensive for many families who still need both partners to work. Indeed, Aviva, the insurance company, has estimated that the cost of childcare which grandparents provide for their grandchildren is huge - the equivalent of £7bn in 2013.
Alison Finnegan from Immediate Media, the special interest content and platform company, introduced us to the seven segments of 'Generation Wealth', the audience marketers and brands cannot afford to ignore. Meanwhile, Rosemary Goreman from the Mail Newspaper Group reiterated this concept, introducing us to the 'Super Parents'.
This new group is made up of a growing number of baby-boomers who are changing patterns of consumer behaviour in two ways. Firstly, they are bank-rolling their children and, often, their grandchildren in these harsh modern economic times, providing them with the security and cash to battle against the economic elements which are threatening to make them the eternal boomerang children generation
Secondly, their financial muscle, together with their knowledge, life experience and the time which they can give to researching product sectors means that they are wielding incredible influence on the purchasing decisions of their families.
Alison stated: "As an industry, we need to understand the drivers of the behaviours that we are trying to affect on behalf of brands. As an advertising industry, being on top of the drivers of behaviour is crucial."
Differential ageing
Wise Branding's Melanie Haslam identified eight key trends which will reshape the over 50's market, including differential ageing, life enhancers (things that push life's boundaries) and help-yourselfing. Further changes identified by Haslam included the US trend of the 'younger old' moving back in with wealthy older parents, to older people moving back to urban living for improved life quality, access to services and reduced travel costs.
Mike Colling of MC&C and Janet Thompson of Warner Leisure Hotels took conference participants on a content-led customer journey. It was an eye-opener for everyone, showing the audience that those entering retirement are more likely to try new products and services, over a period which can last for many years.
Getting older doesn't mean life is over. In her presentation, Pearlfisher's futures director Sophie Maxwell looked at the media's demands on us to "grow up fast and then aspire to stay young". Maxwell believes that "ageing will, once again, become respected and revered, assuming its rightful stature".
The conference learned that the behaviour and purchasing habits of 'mature consumers' has changed drastically in recent months. Given their growing share of total market wealth however, 75.9% in the second quarter of 2013, they present a gold mine of opportunity for savvy marketer - to be ignored or mis-targeted at their peril.