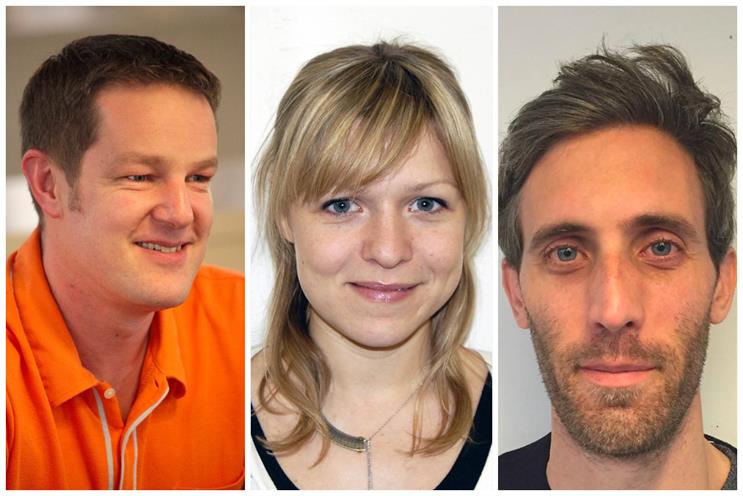 The group,which acquired Dare in October 2015, has announced three new senior promotions to expand its experience planning. Mark Bell has been promoted to the newly-created role as chief experience officer for Oliver. He will report into David Russell, the director of advertising and marketing at Oliver.
Bell, who joined Dare in 2005, was previously a planning partner, leading a team that inlcuded psychologists and toy designers. Prior to that was the head of user experience at LBi.
Meanwhile, John Gibbard and Roz Thomas have been appointed as co-heads of experience planning at digital agency Dare.
The new team will be tasked with expanding experience planning outside digital to include in-store and physical environments.
Thomas joined Dare in 2010 and has been responsible for the strategic planning of high profile digital experiences for Sainsbury's and more recently experience planning for EE, Coca-Cola and Vision Express.
She has previously worked as senior user experience designer at Harvest Digital and as senior designer at Play On Design.
Gibbard worked a the user experience architect at Aviva (then Norwich Union) before he joined Dare in 2008 as information architect. He has held various roles at the agency including experience lead, senior information architect, where he has worked with brands such as The Foundry and BMW.
Russell said: "The experience planning approach pioneered by Dare offers brands a new way to define, design and create even more effective and memorable customer experiences.
"The senior team behind it are as unique, creative and perceptive as the process they've developed."
At the end of last year Oliver Group hired Proximity's deputy chairman, Sharon Whale, to be UK chief executive as founder Simon Martin took on a global role.