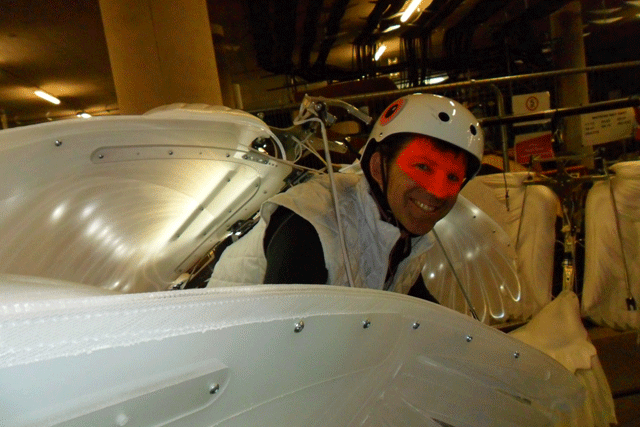 Newman receives a warm hand on his Opening
Bitch has had her ear to the ground – and stilettos on the pavement – with the opening of the London 2012 Olympic Games, and you boys and girls in media haven't let her down with the inventive and bizarre things you have done to celebrate this event of a lifetime.
However, while some of you are taking advantage of the corporate hospitality (and hopes you're turning up), there is one media trooper that takes the gold medal and that's Aegis stalwart Stuart Newman one of the network's new business gurus.
Watch the opening ceremony? Turns out Stuart was recruited into the opening ceremony through his cycling club and was "one of 70 doves" on bicycles. He got to work with Danny Boyle and was just one of those who received the clap from the assembled throng who were obviously pleased to see him, if the warm welcome was anything to go by.
As with all good media men, he then found time to socialise until the small hours, in one of the local bars around Stratford with lots of nurses and industrial revolution "workers" still in fancy dress. Well, after showing the world what Great Britain is famous for it's only fair that everyone topped of the evening with what we're really famous for, this girl thinks.
Hello campers
Those boys and girls at IPC Media have thrown themselves into the spirit of the Games, this girl hears, with a host of activities going on in and around its headquarters at the Blue Fin Building south of the river.
According to Bitch's spies at the publisher, last week each member of staff was greeted with a chocolate gold medal on the way into the building to welcome the event to London. But that's only where it started.
For the duration of the Games, IPC staff will have the chance to participate in the company-wide "cyclothon" attempt to cycle an estimated 500 miles. That's double the distance of the combined men's and women's Olympic cycling road races.
Before you think that the sensitive little magazine-types are going to be battered by the rain, the environment is a little more convivial as staff will attempt the distance on exercise bikes
In return for a £2 donation to SHHiRT, IPC's chosen charity, the IPC lot can cycle as much as they can for 10 minutes to reach the goal.
Surely the most annoying initiative this girl hears, has to be that every time Team GB wins a gold medal, it will be announced across the publisher's loudspeaker system.
It's not clear whether IPC Media chief executive Sylvia Auton will be making the announcements personally, but Bitch thinks she should, a la London Mayor Boris Johnson at the capital's stations, or like Ruth Madoc across Maplins in Hi-De-Hi "hello campers..."
Bitch is sure that the IPC Media staff are wishing Team GB the best of luck, but not that much if that's the case.
United Nations
This girl hears that MediaCom pulled out all the stops for its own "Opening Ceremony" last Friday. The agency started off hosting an Olympic Breakfast for all the staff at MediaCom and GroupM, sponsored by outdoor specialist Clear Channel.
Turns out Friday was the culmination of each team or department selecting an Olympic country and then "pimping" (their words, not Bitch's) their area to reflect the culture of that country.
This included: Career, which selected Korea (shocking pun); International, Brazil; Procter & Gamble, Ireland; Business Science, Madagascar; Direct, Greece; Investment, Spain; MBA, Japan; TED, Hawaii; Team Sky, Norway.
A judging panel of MediaCom chief executive Karen Blackett, managing director Claudine Collins, chief strategy officer Sue Unerman and managing partner Steve Gladdis toured the building giving marks out of 10 to each country.
The Business Science team switched their media charts to reflect how Madagascar had developed over the years.
Investment hosted a live bull run, straight from the streets of Pamplona. The Procter & Gamble team transformed their area into a traditional Irish pub as did KR Media, which constructed an "authentic" Jamaican beach bar.
The overall winners were the Investment team, who along with the bull running showed everyone how to party with a realistic view on Club Ibiza.
MediaCom is now planning to put on an air hockey event, a sumo wrestling match and an internal triathlon.
A torch Virgin
Bitch knows that the Media Week boys love Virgin Media's chief marketing officer Nigel Gilbert following his star turn at this year's Media 360, so she thought she'd show this particular picture of the spritely Nigel, who ran with the Olympic torch in Harrow.
According to Bitch's sources, our man from Virgin Media was heard to urge the Olympics entourage to "Keep up, keep up!"…
A view from the bridge
IPC is not the only media company on the South Bank that lit up with that Olympic buzz recently, in fact near neighbour and Southwark's finest (well only) media agency MEC were also out in force to put into action "Torchview" (how butch and superhero sounding darlings) on behalf of client Lloyds TSB.
This 360-degree street view camera close to the Millennium Bridge has been capturing footage of the crowd throughout the Olympic Torch Relay. Spectators can then tag themselves on the Lloyds Banking Group Torchview Facebook page.
Bitch doesn't want to point it out, but was wondering who at MEC came up with that idea and how they came up with the strategy. She can imagine the meeting "look, we're going to spy on a whole lot of unsuspecting strangers…"
Turns out the main instigator was Matt Bell, digital strategy director at the WPP agency.
This girl wouldn't like to think what Matt gets up to in their spare time that allowed him to come up with that idea.
Until next week my little telescope types.

Bitch xxx