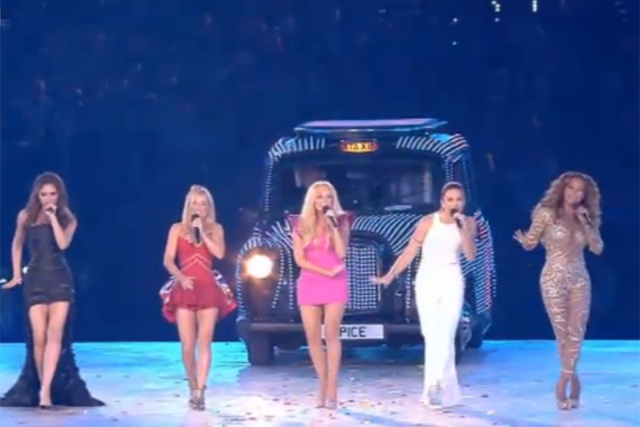 The five-minute peak came at 9.35pm across BBC One, BBC HD (3D) and the red button channel, Olympics 1.
The average audience throughout the programme from 9pm to 12.20am was 22.9 million, with 81% of the television-watching audience tuning in to the BBC coverage.
ITV's primetime offering of 'Agatha Christie's Poirot' and 'A Touch of Frost' gathered 1.6 million and 700,000 viewers respectively.
On Saturday, Tom Daley, the 18-year-old diver, attracted a peak audience of 15.9 million viewers across BBC One, BBC Three and BBC Olympics 2, when he won a bronze medal in the 10m platform event.
British long-distance runner Mo Farah brought BBC its second-highest audience of Saturday night, when 12.9 million people watched the Somali-born athlete add the 5000m gold to the 10,000m gold medal he won a week earlier.
Team GB's first men's boxing gold winner, Luke Campbell, had a peak audience of 7.3 million when the fight was replayed after the athletics on BBC One on Saturday night.
The live footage of the bout got a peak audience of 548,000 on BBC Olympics 8.
Canoe sprinter Ed McKeever's victory in the K1 200m event attracted a peak audience of 2.9 million viewers across BBC One and BBC Olympics 3 at 9.40am.
Over the course of the BBC's main Olympic evening show from 7.15pm to 10.15pm BBC One and BBC One HD had an average audience of 9.07 million viewers, a whopping 39.5% share.
Elsewhere, ITV's 'Midsomer Murders' had an audience of 1.64 million viewers between 8pm and 10pm on ITV1 and ITV1 HD, a 6.9% share. An additional 143,200 watched the whodunit on ITV1 +1.
Follow @MaisieMcCabe