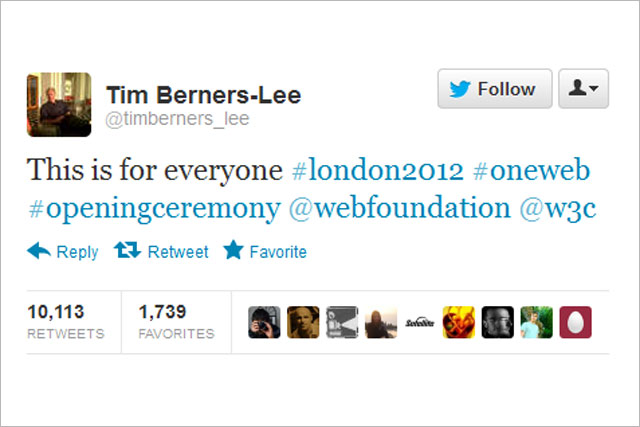 According to Twitter the number of tweets mentioning the Opening Ceremony, which averaged a domestic TV audience of 22.4 million viewers, was 9.66 million, from its 8pm start on Friday (27 July) to when it finished broadcasting in the US.
The biggest spike in Twitter conversation occurred when Rowan Atkinson's character Mr Bean took part in a rendition of 'Chariots of Fire'. This coincided with the TV peak of 26.9 million viewers, as the TV audience took to dual-screening the event.
The live-tweet sent by Tim Berners-Lee, the inventor of the world-wide web, during his appearance in the Opening Ceremony, which stated: "This is for everyone #london2012 #oneweb #openingceremony @webfoundation @w3c" was retweeted 10,000 times.
Even before the Opening Ceremony began, Twitter said it was experiencing more Olympics-related tweets that day than it had in a single day of the Beijing Games in 2008, but did not reveal any data.
However TV viewers took to Twitter to complain about the BBC's coverage of the cycling, which suffered a series of technical glitches.
Commentators for the Games were unable to explain how far ahead the leaders were in the men and women's cycling events, which went through Box Hill in Surrey.
The International Olympics Committee (IOC) has reportedly said that the heavy use of Twitter and texts being sent by spectators watching were overloading data networks and was to blame for the glitches in the coverage.
According to Reuters, an IOC spokesman said fans should avoid sending non-urgent tweets and text messages during the Olympics.
The IOC did not respond for a request for comment. Twitter and the Olympic Broadcast Services (OBS) London, which is responsible for the technology for the road race, declined to comment.
Read more on The Wall blog
Follow @shearmans