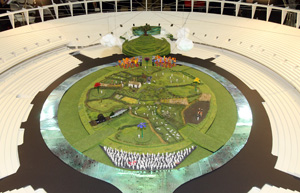 Boyle revealed the opening scene will be called Green and Pleasant. Idyllic scenes from the countryside will be created against a backdrop of farmyard animals, including sheep, horses, cows, goats, chickens, ducks, geese and sheepdogs.

Boyle said the show was inspired by The Tempest and would be about a land recovering from its industrial legacy.

The show will feature 900 children from the six Games host boroughs. There have already been 157 cast rehearsals. The production team is completing work on around 3,000 props, while staff in the production department are creating 23,000 costumes.

Europe's largest bell – weighing 27 tonnes – will ring to mark the start of the show. Commissioned from the Whitechapel Bell Foundry, it will hang at one end of the stadium, and Boyle said he wanted people to hear it "for hundreds of years".
Boyle said: "The Ceremony is an attempt to capture a picture of ourselves as a nation, where we have come from and where we want to be. The best part of telling that story has been working with our 10,000 volunteers. I've been astounded by the selfless dedication of the volunteers, they are the purest embodiment of the Olympic spirit and represent the best of who we are as a nation.'
Seb Coe, Locog Chair, said: "With a worldwide TV audience of a billion people and a cast of over 10,000 talented volunteers, I'm sure that Danny's ceremony will be a fantastic celebration that will welcome the 10,500 athletes from around the world and make our nation proud."

Singers Adele and Leona Lewis will perform a duet at the ceremony, Adele's management also revealed today.
Thoughts on the concept? Login and let us know what you think below.
For more print-only Olympics as well as interviews with leading brands and Olympic sponsors, don't miss the next issue of Event magazine by subscribing here.