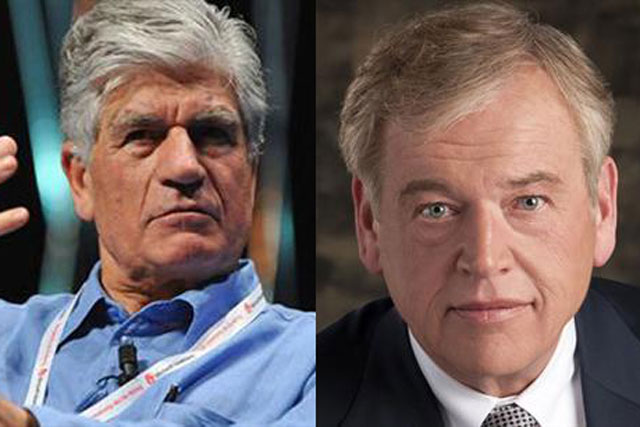 Maurice Lévy, the chief executive of Publicis Groupe, and John Wren, the chief executive of Omnicom, will run the combined business as joint chief executives for the first 30 months.
The "merger of equals" creates what Publicis and Omnicom called in a statement "the world's leading company in communications, advertising, marketing and digital services" with a combined revenue of $22.7 billion or €17.7 billion.
Wren and Lévy said jointly: "For many years, we have had great respect for one another as well as for the companies we each lead. This respect has grown in the past few months as we have worked to make this combination a reality.
"We look forward to co-leading the combined company and are excited about what our people can achieve together for our clients and our shareholders."
The "integration and development period" is expected to take around 30 months, after which Lévy will take on the role of non-executive chairman of the company and Wren will become the sole chief executive.
The headquarters of the new company, to be called Publicis Omnicom Group, will be based in the Netherlands with operational headquarters in Paris and New York.
The first year after the deal has closed Bruce Crawford, currently the Omnicom chairman, will be the non-exec chairman of Publicis Omnicom Group. Elisabeth Badinter, currently chairperson of Publicis Groupe, will be the non-executive chairperson for the second year after the deal has closed.
Wren said the merger, which is expected to go through in the last quarter of 2013 or first quarter of 2014, was Lévy's idea. Wren said he did not expect any regulatory problems: "Our advisers have not flown any red flags."
The merger talks "started six months ago with initial conversations", Wren said, and the two executives kept asking: "Is this possible? Can it really happen?"
"In six months we've had many opportunities to see whether we trusted each other or not and proved [we do] 100 per cent of the time," Wren said.
Publicis Groupe operates businesses in 108 countries on five continents across the world, employing 60,000 professionals, while Omnicom operates in more than 100 countries, working for more than 5,000 clients across the world.
According to its most recent results, Publicis Groupe's pre-tax profits increased by 15 per cent in the first half of 2013, after revenue surged almost 9.6 per cent to €1.8 billion (£1.6 billion) in the second quarter.
Omnicom reported pre-tax profit of $482.3 million (£316.7 million) in the three months to the end of June, up 2.3 per cent year on year as revenue increased 2.1 per cent.
When asked if he had a comment for rival Sir Martin Sorrell, the chief executive of WPP, the largest marketing services company prior to the merger, Lévy said: "Martin Sorrell is a competitor, a strong competitor, a very strong competitor and he will remain a strong competitor.
"I respect WPP enormously, but I don't define our strategy in regard to what he will think or what he will do. We define our strategy for what is great for our clients and what is great for our shareholders."
Omnicom and Publicis expect the "future scalability and internal synergies" of the combined company to generate efficiencies of $500 million. Lévy declined to comment on the details and said they would be "presented in due course".