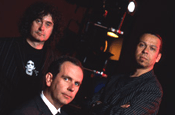 The parties are thought to have been in discussions for several months, although a deal is yet to be struck.

Should the acquisition go through, the two agencies are likely to be merged.

Omnicom is understood to be attracted to the strength of BMB's senior management team, including its co-founders Trevor Beattie, Andrew McGuinness and Bil Bungay, who all left TBWA in 2005 to launch BMB.

TBWA\London has suffered a decline in profile and creativity since their departure, although it has since hired Tim Lindsay, the former chairman of Publicis UK, as its UK group chairman.

The agency is currently seeking an executive creative director after Steve Henry left in July without a job to go to.
Beattie said: "We've had approaches from and conversations with all manner of companies and networks over the past two years. Their interest in what BMB represents is very flattering. We'll continue to explore our many options. But right now, we have done no deal with anyone."