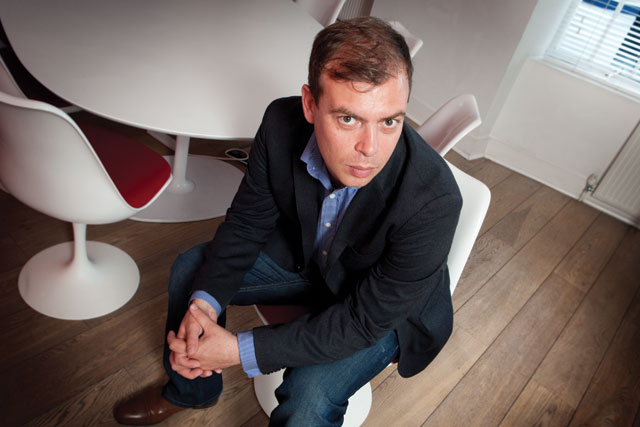 Opting for a career as a mobile advertising guru has always been a little bit of a gamble. Actually, we're being generous here. The casualty rate in this sector has been rather tragic.
This is a business that has had considerably more false starts than Usain Bolt. (Sorry: our first and absolutely last Olympic gag.) We've had the SMS text messaging revolution - the one that promised to change the marketing world utterly. And then we've had the "this is the year of mobile; oh no it's not; oh yes it is" carousel. Apparently, it finally is.
We also, at one point, experienced a wacky commercial world of mobile awash with Crazy Frog ringtones and gambling scams. Then we had all sorts of people, before the launch of 3G, predicting with absolute certainty that mobile was on the verge of changing TV viewing habits utterly.
And, of course, each passing wave has seen its particular generation of evangelists come and go. Only those with incredible staying power or immaculate timing could ever hope to make it to the promised land.
So, meet someone who has been gifted with a bit of both. Earlier this month, Alex Newman was promoted, with immediate effect, from the position of head of mobile at OMD UK to become the head of mobile at OMD International and Omnicom Media Group EMEA. He will report directly to Jenny Zirinsky, the managing partner at OMD International.
Newman's appointment is part of a big investment in mobile by OMG, which, coincidentally, lost its digital chief in Europe, Damian Blackden, to the technology company Adnologies around the same time. Replacing Newman as the head of mobile at OMD UK is the young mobile hotshot Milton Elias, who has been lured away from the same role at OMD's competitor Starcom MediaVest Group.
This heated mobile action is a sign that this is a sector of the market that we can safely begin to take seriously - especially as OMD's rivals have been making significant appointments in this area too.
And just look at the ad market growth figures. The Internet Advertising Bureau's most recent mobile report showed that the sector was worth £203 million in 2011 and industry estimates (for instance, from FirstPartner) tend to suggest that it will more than double to around £450 million for the calendar year 2012, increasing to more than £1 billion in 2015.
The toys that have transformed the mobile landscape are, undeniably, the iPhone and the iPad from Apple. "Steve Jobs changed my world," Newman says. "The head of mobile advertising job, early on, was about giving clients a vision of the future - and it wasn't easy getting blue-chip clients to consider it. But, then, people began to understand what these new devices had to offer and the rapid evolution of consumer behaviour proved that mobile offered the potential to grow further."
When Newman joined OMD in 2006, following spells at Starcom Motive and MediaCom, he was initially a television buyer. Then, in 2008, he added a bit of mobile to his job spec. Over the next couple of years, as mobile budgets hardened up into more of a reality, he was able to dispense with the TV aspect of his job title.
His new task is to talk to multinational clients at a senior level about mobile while also ensuring OMD's network agencies can plug into best practice. The trick is, he says, to ensure that mobile is increasingly integrated into wider agency functions. "It's important to tell people not to be scared," he explains. "Mobile is just the same as other media channels - it's just that the implementation is more technically demanding."
And, of course, he'll oversee specific projects - but he admits that this is the side of things that he'll miss most if his role becomes more abstract and managerial. "I like dealing with clients who have budgets and want to get things done. I like getting my hands dirty. I'd like to keep involved in that side of things," he states.
It's also rather heartening to hear that people with UK mobile experience have much to teach the wider mobile world. The hardware may emanate from the US and Asia, but Newman argues that Europe - and Britain in particular - has been an ideal market in which to develop groundbreaking mobile marketing initiatives.
Newman emphasises that the market is still very much in its infancy - and should stay alive to the dangers of overhyping itself. But he believes that the growth in user numbers almost guarantees that mobile will soon catch and supersede fixed-line internet as an advertising medium. And, actually, that could be very good news for some of our better-known media companies, particularly news organisations with a heritage in print.
The new mobile app world could, in theory, deliver the sorts of advertising and subscription revenues that haven't been available in fixed line to date. So, for many in the marketplace, the 64-megabyte question is whether Newman and his ilk are about to ride to their rescue.
While he's perfectly willing to talk an upbeat game, Newman is also cautious. "It's going to be very difficult, especially over the short term," he concludes. "But there is cause for optimism too."
THE LOWDOWN
Age: 34
Lives: Golders Green, London
Family: Married with expectant wife (no kids yet)
Interests outside work: Golf, rally cars
Favourite device: Samsung Galaxy Nexus phone
Must-have music: The Strokes, Orbital
Desert island luxury: Obviously my smartphone
Motto: If it's good enough for Mary Meeker, it's good enough for me!