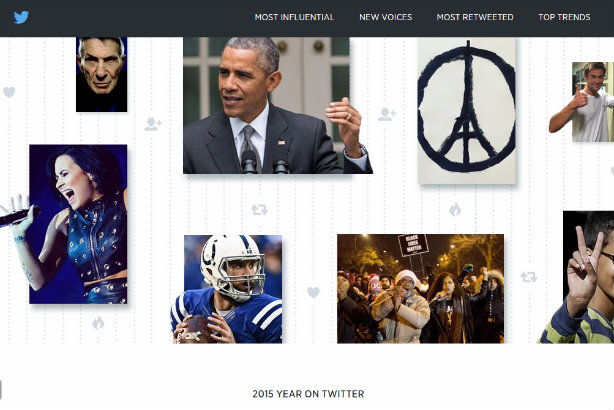 In a blog published over the weekend, Twitter comms director Alexandra Valasek (@AlzVlaz to her followers) introduces the 2015 review website, saying: "As always, the world united this year in moments of triumph, activism, support and fascination, and Twitter is where we gathered for all of it. Whether people were making a hashtag into a global movement or expressing wonder over the colour of a dress, we all used Twitter this year in awe-inspiring ways."
In addition to a video review of the year – which can be seen at the end of this story – the website shows that the departure of Zayn Malik from pop group One Direction was the story that spawned the two most retweeted tweets of the year, with number two coming from Malik himself but the most retweeted from Harry Styles.
Fellow bandmates also provided numbers three and five in the most retweeted list, while four went to Barack Obama's tweet following the US gay marriage vote. A tweet of prayer and support to his people from new Saudi ruler King Salman shortly after coming to the throne was number six.
Today is a big step in our march toward equality. Gay and lesbian couples now have the right to marry, just like anyone else. #LoveWins

— President Obama (@POTUS) June 26, 2015
???? ????? ?????? : ??????? ???? ????? ???? ?? ?????? ????? ???? ???? ??? ?? ?????? ?????? ??? ???? ????? ??????? ????????? ?? ??????.

— ????? ?? ????????? (@KingSalman) January 29, 2015
Twitter also picked out #PrayforParis and #JeSuisCharlie, hashtags launched in response to atrocities in Paris, as its "most influential" trends of the year, and followed this up with #BlackLivesMatter, the marriage equality hashtags #LoveWins and #HometoVote, and then #refugeeswelcome.
Pop stars as a whole – and One Direction in particular – dominated several of the most tweeted hashtags, while top tech trends included the iPad and Soundcloud, and #jobs bested several hashtags related to Islamic extremism and terror to be the top news trend.
The hashtag for Saudi football club Al-Ahli was the most tweeted sports hashtag, beating UK teams Manchester United and Liverpool. Twitter also put together a list of its most used emoji:
Caitlyn Jenner, the actor Adrien Brody, Edward Snowden and Diana Ross were named among Twitter's top 'new voices' of 2015.
The video review of the year can be seen below.
Look back at the most influential moments of the #YearOnTwitter: https://t.co/xPFcNl1GzW https://t.co/2UnakTtWE7

— Twitter (@twitter) December 7, 2015