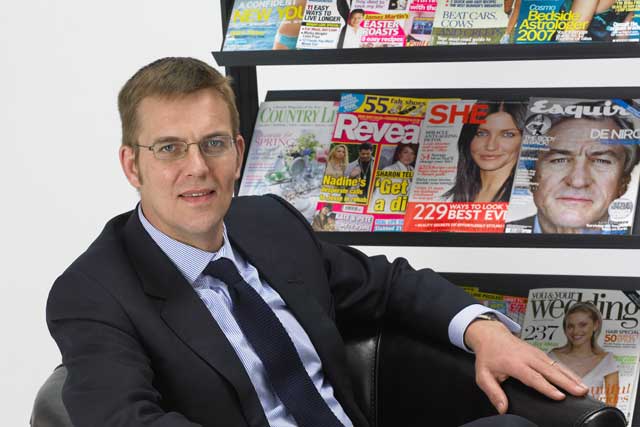 Duncan Edwards laughs when asked what nearly 30 years in the media business has taught him, and although we are speaking over the phone, Campaign gets the impression that his reply is accompanied by a shrug when he says: "Look, you're only as good as the people you work with."
As one of the UK media industry's most famous exports, this seems like a very modest reply considering how far he has come since his early days as an ad manager at Media Week in the mid-80s.
Now the president and chief executive of Hearst International, he splits his time between his home in New York and his business trips to various cities including London, Sydney, Shanghai and Madrid (his location at the time of our conversation). "I have a very understanding family," he says, with reference to these long-haul commitments.
After working at Media Week, Edwards joined The National Magazine Company in 1989, where he saw the UK company grow from nine magazines in 2000 to 19 magazines and various supporting digital assets in 2009.
Having witnessed some of the biggest changes in the magazine industry over the past ten years, such as the emergence of digital and the increasing popularity of tablets, Edwards could have been forgiven for jumping on the "print is dead" bandwagon long ago.
Not a bit of it. Edwards sees the decline of print as an industry myth and says that its value as a medium for content and advertising is still realised by publishers and advertisers alike. "Advertisers still recognise that there is no better way to build the image of a brand than in print," he says. "If you talk to L'Oreal, Estee Lauder or any of the fashion companies, they'll tell you that they have built their business off the back of print media."
Vanessa Clifford, the head of press at WPP's Mindshare, agrees. For her, the decline of print is all relative. She says it is all too easy for advertisers to focus on the negative and say that print numbers are declining when the reality is that the Professional Publishers Association counted more than 3,300 consumer mags on the shelves last year. Clifford adds: "You can't escape the emotional attachment that people have to their print magazines. Digital can't replicate this."
Hearst has been a big player in the international market for decades. The first international issues of Cosmopolitan went on sale in the early 70s, and the brand continues to be launched in countries all over the world including Vietnam, Mongolia, Azerbaijan and Singapore.
In January 2011, Cosmo announced that it was launching in the Middle East - a brave move for a magazine that made its name championing women's sexual emancipation. Observers wondered how the brand could translate to a region where many women are expected to wear burkas.
But for Edwards, Cosmo has the power as a brand to transcend these cultural barriers. While the DNA of the title remains the same, the way that it is interpreted varies depending on the market. He explains: "Ultimately, we are trying to help young women be the best they can be - whatever the cultural context."
Cosmo celebrated its 40th anniversary in February this year. The brand produces 63 international editions, is printed in 34 languages, distributed in more than 100 markets and claims to have a global readership in excess of 100 million. In March, Cosmo became the first Hearst brand to surpass 100,000 paid individual subscribers for its US digital edition - not an insignificant number considering the relatively nascent tablet market.
Despite this reach, Edwards says Hearst is continuing to look for opportunities to branch out further: "The main opportunities for us are in the developing markets - the faster-growth economies. Priorities for Hearst at the moment would be Russia, China, Mexico and South America."
The merger of Hearst's UK offshoot, NatMag, and Hachette Filipacchi in 2011 brought together leading women's magazine brands such as Good Housekeeping, Red, Elle and Harper's Bazaar. The move involved a large commitment to print (it was part of a larger international deal with Lagardere worth £559 million). So does Edwards feel that it has paid off?
"One of the reasons for the merger was that we felt there were only a small number of truly powerful global brands in media and print. We (NatMag) owned a couple of those - Good Housekeeping, Cosmo etc - and Hachette owned the other, Elle. So, in the UK, we brought the businesses together and Arnaud de Puyfontaine (the chief executive of Hearst Magazines UK) has done a good job in a very complex and time-consuming programme of integration."
Edwards has big claims when it comes to Hearst's investment in digital and one that will surely ruffle feathers of its biggest competitor, Time Warner's IPC Media. "We are now the biggest magazine company when it comes to digital," he claims. "We have a huge internet web business with Cosmopolitan.co.uk, ElleUK.com and Netdoctor. In addition, all our magazines are available on tablet newsstands."
Edwards says while he will be the last person to stop buying print newspapers and magazines, his overall philosophy is realistic: "The fact that you can access media through such high-quality devices is a very exciting thing for people who are in the content business. That's who we are: we're not wedded to paper, we're not wedded to any medium, we're wedded to the content and to the brand."
THE LOWDOWN
Age: 48
Family: Married to the writer Sarah Kennedy with two sons, Freddie (17)
and Fin (15)
Hobbies: Running, triathlon, chopping wood
Favourite publications: Esquire, The Economist
Favourite book: A Dance To The Music Of Time by Anthony Powell
Biggest vice: I do have a weakness for handmade suits and expensive
bicycles