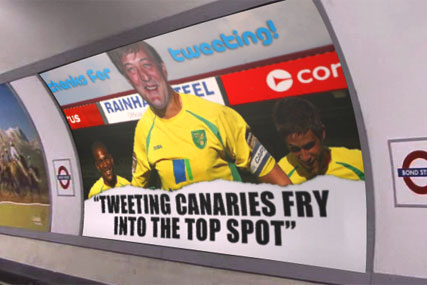 The competition received a boost on Tuesday when comedian and serial Tweeter Stephen Fry tweeted about the contest to his 1.8 million followers.
Fry said: "Sometimes 140 characters just isn't enough – an interesting competition celebrating the art of copy writing".
In return CBS Outdoor tweeted a video of a London Underground train passing in front of a 48-sheet poster showing Fry in a football shirt with the slogan "Tweeting canaries Fry into the top spot".
The judging panel for the contest, which is being held in association with Campaign, includes David Droga, the creative chairman of Droga5, Gavin Kellett, the head of copy at Publicis London and James Lowther, founding partner of M&C Saatchi.
Creative teams have to design a cross-track poster for the London Underground, which demonstrates that long copy remains an effective tool that can still hold consumers' attention.
A Grand Prix in each of the two categories – Commercially driven and Not-for-profit – will award each winner £125,000-worth of cross-track media space on the network in Central London.
The 48-sheet designs must use a minimum of 50 words and maximum of 200 words of copy to advertise a brand or client and the winners will be revealed at an event on 3 November.
More details are available at www.londonlongcopy.com.