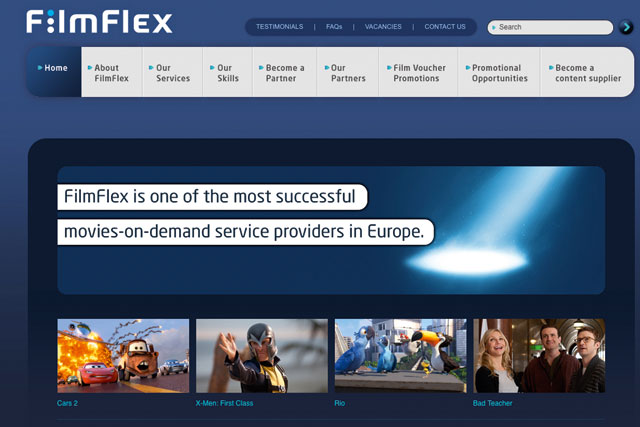 Are you sitting comfortably? Then we'll begin. Or ... will we? We all love to spot a trending phase in the digital entertainment revolution - and, in the past few weeks, one such new wave has been building momentum.
Sadly, though (as with so many previous instalments of the revolution), participants in this newest wave are a little bit vague about whether they'll make headway as regards the only screen that, in the long run, really matters - the expensive HD Bravia or Viera you have facing your comfiest sofa.
Last week, HMV announced that, as an antidote to a slump in its in-store DVD sales, it had formed a partnership with FilmFlex to launch an online "movie rental" service. It's in good company. LoveFilm added online rental to its postal DVD rental business in 2010; then, earlier this year, YouTube, which has traditionally focused on low-quality short-form content, launched a film rental site; and more recently, the US operator Netflix announced it was coming to the UK in 2012.
You have to admire the acts of faith involved here - because none of these services really make sense until we all begin connecting our TV sets to the internet. And going right back to (say) the launch of Windows 98, the new economy's attempts to break into our living rooms have been plagued by bad luck.
It didn't help that some New Economy theorists argued (up until relatively recently) that this didn't matter. They'd spend too much time listening to the likes of the US sociologist Clay Shirky - who'd been quick to announce the death of conventional viewing habits - and not enough time analysing the exponential sales graph for flat-screen televisions and home cinema systems.
These HD screens are not routinely connected to the internet - though if you have more recent Sony and Samsung sets (or an Xbox or PlayStation 3 box, come to that), it's becoming an easier proposition. However, it's not yet a mainstream phenomenon - and it won't be by tomorrow, either.
LoveFilm, arguably the best-known company in this space, has built a rather fine business based on the efforts of that somewhat discredited heritage delivery system: the postie. There's an existing online rental market for PC and tablet users, obviously. Unfortunately, though, the sorts of people who watch movies on laptops in their bedsits are exactly the sorts of people most likely to steal them with the help of piracy websites.
So, in short, you could argue that, for as long as the internet remains disconnected from the living room, these new rental businesses are destined to be somewhat peripheral.
1. HMV's partner in hmvon- demand is FilmFlex, which is itself a joint venture between Sony Pictures Television and The Walt Disney Company. The new operation will offer online rental of titles from 30 distributors. FilmFlex also operates in partnership with Virgin Media to run its Online Movies service; and works with Channel 4 on the video-on-demand side of Film4.
2. The best known "heritage" film rental business is Blockbuster. Although it has evolved its website over the past decade to encourage online ordering, it has continued to focus on physical DVD rental, either through the post or from its stores. It is launching an online streaming service next year.
3. But LoveFilm, its more youthful challenger in the DVD postal rental business, beat it to the punch with the launch of its streaming service in March 2010. In January 2011, LoveFilm was acquired by the online retail powerhouse Amazon - a move that many felt signalled the likelihood that this market was ready to take off.
4. Tesco acquired an 80 per cent stake in one of the pioneers in the online rental business, Blinkbox, in April. Tesco also has its own generic DVD rental business at tescoentertainment.com.
5. But the most aggressive entrant to this newly coalescing market is likely to be Netflix, the US online rental market's leading player, which is launching in the UK during the first quarter of 2012. Last month, LoveFilm signalled a lack of confidence in its ability to fend off Netflix when it paid to ensure that it comes first, above Netflix, when you enter Netflix as a Google search term. This sort of marketing sharp practice is rarely, if ever, a good idea.
WHAT IT MEANS FOR ...
THE CONSUMER
- Lots of choice, clearly. But, equally, lots of confusion.
BSKYB
- BSkyB, historically a pioneering company in the commercial digital distribution of premium audiovisual content, might love all this activity. Because, of course, Sky is currently being investigated by the Competition Commission for its supposed dominance of the pay-TV movie business.
- New services, it will argue, show that the reality is otherwise. In the meantime, it takes heart from the fact that the new entrants will struggle to offer better-quality pictures to Britain's living rooms, even the homes with all the gear - because the internet is an inherently inferior delivery platform. Sky's satellite-delivered HD (with broadband as the return loop) is the gold standard in on-demand entertainment. But if people are prepared to trade down to broadband rental, Sky is well-placed to compete there too.
- Meanwhile, tellingly, many of the new entrants jostling for position describe themselves as "technology companies". As such, they will almost certainly struggle to make headway. Technology is, of course, the name people tend to use for stuff that doesn't quite work properly yet; and "technology companies" are notorious for their open contempt for their customers.
- In fact, this arguably gives LoveFilm an edge. Amazon has revolutionised retail precisely because it has never postured as a technology company - its success is built on focusing unashamedly on the consumer.