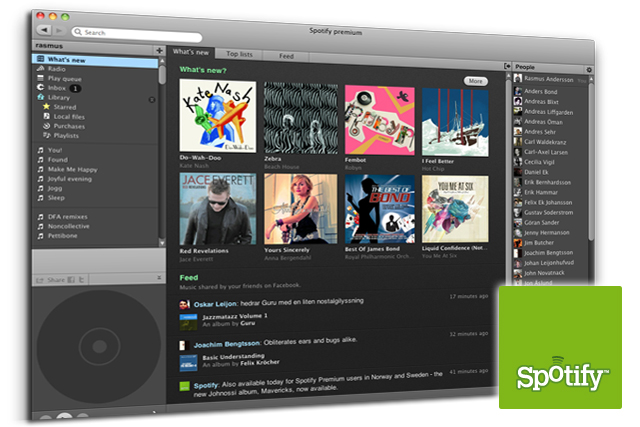 There has been a run of bad news in the world of online music. Last November, Spotify revealed it made an operating loss of £16.4m in 2009 - despite 250,000 paid subscribers by the end of that year - and in December Sky announced it will close its online music venture Sky Songs today (7 February) due to disappointing customer take-up.
Then in January Nokia announced it is winding up its 'Comes with Music' service in 27 of 33 territories due to low uptake.
Does this mean the online music bubble has already burst? Most industry experts believe not. The widely accepted view seems to be that Sky Songs failed for very specific reasons that do not necessarily apply to other players in the market.

Adrian Pope, managing director of digital and business development at PIAS Entertainment Group says: "Sky failed for three reasons. The user experience was poor and lacked a point of difference, the commercial offer was too complex and Sky didn't put enough marketing muscle behind it."

Perhaps the most important lesson to draw from the Sky experience is that in the increasingly crowded online music market, it is essential to get your model right. Gregor Pryor, partner in the Technology and Media team at law firm Reed Smith says: "Sky Songs was not a unique case. It's a tough market. Consumers are fickle and spoilt for choice as far as access to digital music is concerned."
Not owning, but streaming
So, which of the many online music sites have the right model and which will go the way of Sky and Nokia? Most experts now agree the ownership model championed by the likes of Apple and Napster is coming under pressure.
While offline consumers like to own music and hold albums in their hands, online they merely want to listen to it. Streaming is the future.

With about 750,000 users each paying £120 a year, on top of established advertising revenue around its free offer, Spotify has for some time been the poster-boy of this new streaming market. Yet it has very publicly struggled to launch in the US, and many believe its hesitation and failure in this market will cost it dearly.

But Jonathan Mitchell, UK country manager at Spotify, is unconcerned. "People love the way they can carry our music with them on their mobile devices and, using the offline function, onto planes. We're becoming a part of people's lives. On top of that we've invested heavily in our ad sales team."

However, Last.fm has four times as many users as Spotify and a far greater global reach, we7 has what many see as an easier-to-use interface, and new entrants like Psonar are beginning to challenge the subscription model by charging just 1p to stream a track.

Rachel Hawkes, account director at media consultancy Elemental, believes the one to watch is YouTube. "It has the music video space absolutely cornered," she says. "It has recently added a music discovery and playlist feature, which makes a killer combination."
Indeed, far from seeing the online music space as an industry where the bubble has already burst, most experts see it as a sector that is only just getting started.

Nick Page, head of digital at business advisors Grant Thornton, says: "The party is over when the investors decide that they are not prepared to continue to support online music services. We have not yet reached that point. The reality for online music is that the business models are still being explored."

As we enter 2011, as Sky Songs joins the growing list of also-rans, so the number of new devices on which consumers can access music - smartphones, tablets, internet-connected TVs and so on - continues to grow exponentially.

In that context, perhaps the most notable event in the online music market in 2010 was consumers starting to pay for Spotify and we7 playlists on their mobile phones.

Over the next year or two, the industry can expect that to become the social norm. And once that happens, an initial loss of £16.7m could seem like a price worth paying.
Going for a song: who's making money?
Last.fm: Launched in 2004 and bought by CBS in 2008, Last.fm has 40 million users but made a loss of £2.8m in 2009. However, that was an improvement on its loss of £17m in 2008. President David Goodman says: "We'll succeed because we've got a diversified revenue model of both subscriptions and advertising. We're also seeing major growth in emerging markets."

Spotify: Launched in 2008, this Swedish company now has 10 million users, of whom 750,000 pay a subscription. Spotify revealed a loss of £16.4m in its latest financial reports, but Jon Mitchell, UK country manager, insists the 2010 figures are looking better. "Online models take time," he says. "Look at Facebook." He is cagey about when the company will turn a profit, saying only: "The bigger we get, the closer we'll come to making more revenue."

We7: Launched in November 2009, this UK site has three million users, but chief executive Steve Purdham admits only a small proportion pay for the premium ad-free, access-anywhere service. Last year, the company lost £3.6m, but Pursham expects to break even in 2011 and make a profit in 2012. "Fifty one million people listen to music on the radio in the UK," he says. "It will take time to convert them to online listening, but it will happen."

Napster: The original bad-boy of the illegal downloading world, Napster went legal in 2004 and now offers a subscription service for £5 or £10 a month. Clearly, this model has appealed less than its original free incarnation, as the company steadfastly refuses to reveal subscriber numbers or any financial information. "We're in the top three subscription services in the UK," says Thorsten Schliesche. "It's a challenging market, and many others have failed."

Psonar: Launched in March 2010, this UK site allows users to stream tracks for 1p a time. Although it only has 13,000 users so far and a very small turnover, chief executive Martin Rigby is convinced his model will succeed. He says: "Our transparent payment method means labels and artists will trust us, and so they will be willing to give us content in a way they have not done so far with other sites."