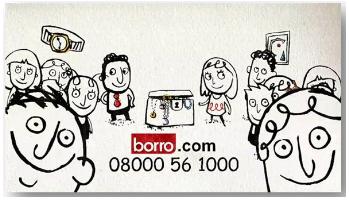 The campaign, by Bournemouth-based The Walker Agency, says consumers need not need sell their possessions to raise funds, and can use the 'asset lending' firm to deal with short-term cash-flow problems. The 30-second execution will be shown on Channel 4, Bravo, Living and across Sky's own TV channels.
'This type of borrowing is becoming increasingly popular amongst a wide customer profile for a host of differing needs, and we see TV as playing an important and ongoing part in further increasing our profile,' said Borro.com founder Paul Aitken.
The website launched last August will the aim of attracting ABC1 customers to the pawnbroker sector.