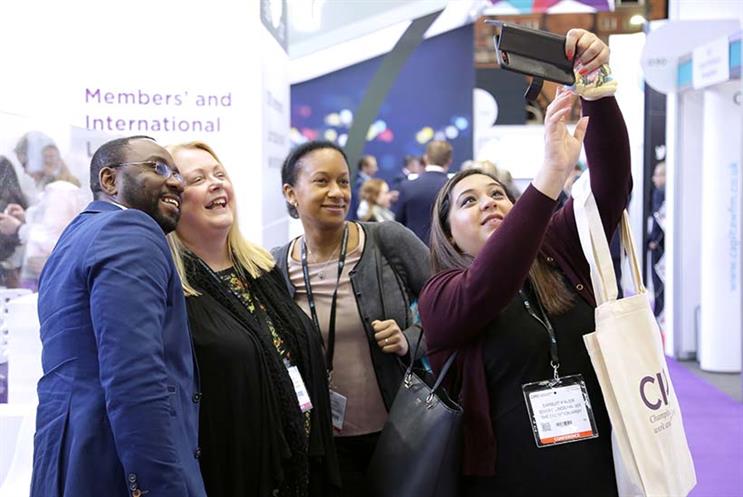 Jennifer Jackson, senior careers content editor for Campaign Jobs, spoke to Vivian Linecar, head of marketing, professional services, at Haymarket Media Group, for insider insight into the team culture and career opportunities on offer in the events marketing team.
Vivian, tell me about your events marketing team
We formed in September 2017 to look after the events for our highly respected professional association clients:
We're expanding and launching fantastic new events to build on our existing prestigious portfolio, so we're very busy and hands-on.
What roles are you recruiting for and what do they involve?
We're looking for two experienced B2B events marketing professionals who want to work in a fun and fast-paced environment, and are looking for a challenge:
A conference marketing manager: This is a pivotal role where you will manage the CIPD portfolio of 10-12 one-day conferences across the year. You will write your own marketing plans, execute them, ensure they stay within budget, and manage post-event analyses and client reporting.
An events marketing executive: This is an exciting role where you will work on 4-5 CIPS conferences each year. You will write and implement the marketing plans for these events, carry out post-event analyses and report back to the client.
How would you describe the team culture?
We are a fun and dynamic team who like socialising together; going out for team lunches and drinks in the lovely Twickenham where our offices are based - a town renowned for sports events, great cafes, bars and restaurants just a stone's throw away.
We're very conveniently located across the road from Twickenham Rail Station where fast trains run frequently to Central London. To top that, we have flexible start and finish times which helps if you're commuting - I personally find it useful to fit around childcare.
We also have away days such as sports afternoons and planning days to reflect on our successes, what we've learned in the last year, and to discuss plans for the coming year.
What exciting events are you working on?
We've just launched the Festival of Work which will be the largest event we do for the CIPD at Olympia next June. We're coordinating 130+ inspirational speakers and three dedicated content streams to tackle the big issues that will shape the future of our working lives.
Other prestigious events we run include ACE - the CIPD's award-winning two-day annual conference and exhibition in Manchester in November, the RCGP Annual Conference, and a range of UK and international CIPS events. We're planning to launch two new events for CIPS next year.
We are also tendering for new healthcare events with new associations, so that will see our team expand further.
What sort of people are you looking for?
We are looking for events marketing professionals who are innovative and love a challenge. You will have at least one year's experience in events marketing. You will need to hit the ground running, set up marketing plans for the events and execute them. You will need to meet tight deadlines and keep on top of budgets. Good organisational skills, timekeeping and experience in dealing with clients are key. You should also have good copywriting skills with fluent written and verbal English.
What career development and progression opportunities do you offer?
As a new team, there is no fixed career path - you have an opportunity to become what you want to become. In addition to on-the-job training, I encourage my team to take part in the many training opportunities that Haymarket offers internally, including events specific training courses, to build on their events marketing skills.
What do you think makes Haymarket a great place to work for events marketing professionals?
I actually like the fact it's not an events marketing company, that we work with the publishing side to grow the events and add good content to them. We work closely with different teams across the business and utilise each others' skills, which is invaluable. We have some senior event marketers working in our team so you can learn a lot from them too. I also like the fact that there's a relaxed vibe in the company - it's not too formal - and there's a lot of flexibility. For events marketing professionals, this is a good opportunity to get involved in all aspects of the events process from end to end, not just one small part.
Why is it a great time to join?
We're growing rapidly and looking at exciting new projects to launch, so you will be part of something new and growing. In your first year you would gain a lot of experience, and in the second year onwards you can really make your mark, influence campaigns and keep them growing from there.
What top tips can you offer applicants?
Highlight your previous events marketing experience
Show us how you've influenced results such as increased footfall or social media followers
Demonstrate you have a good understanding of how to market an event
Show us examples of your work such as brochures or emails you've put together. You can add links in your CV and bring them in to interview - be prepared to tell us about the work you've done!
Find out more and apply: