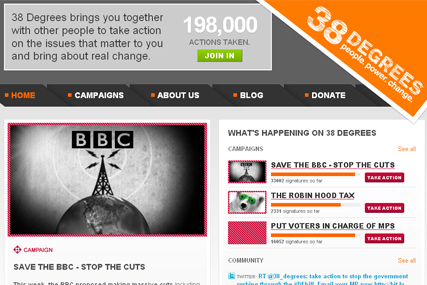 The bill, which includes the controversial three strikes rule which gives the Government powers to suspend file-sharers' internet connections, was passed through the House of Lords last night.
Another part of the Bill, Clause 17, which has now been diluted, had initially proposed to give the secretary of state the power to update copyright law without parliamentary assent.
A campaigning website 38 Degrees has since launched asking people to rally against the Bill with the plea "Don't rush through extreme web laws".
David Babbs, executive director of 38 Degrees, said: "Despite opposition from the public and online companies the government is trying to force through this highly controversial bill before the election.
"38 Degrees is a 100,000 strong people-powered movement and, along with Open Rights Group, our members are calling on the Government not to rush these measures into law without a proper debate."
Broadband providers have also expressed reservations about the bill. A Virgin Media spokesperson said: "We're committed to tackling the issue of piracy. However, we are concerned that, as they stand, the government's proposals could increase costs and penalise ISPs who are investing to tackle the issue, while doing little to encourage content owners to use any future legislative regime in a proportionate way."
Clause 17's replacement, Amendment 120a, has also been criticised by senior media and telecoms executives.
Last week a number of high-profile chief executives including Orange UK's Tom Alexander, Virgin Media's Neil Berkett, and Mark Rabe, managing director at Yahoo! UK and Ireland, wrote an open letter expressing regret that Lords had adopted Amendment 120a.
The letter said: "This amendment not only significantly changes the injunctions procedure in the UK but will lead to an increase in Internet service providers blocking websites accused of illegally hosting copyrighted material without cases even reaching a judge.
"The amendment seeks to address the legitimate concerns of rights-holders but would have unintended consequences which far outweigh any benefits it could bring."
A spokesman for the Department for Business, Innovation and Skills downplayed the media unrest and dismissed claims that the Digital Economy Bill will not face proper scrutiny from MPs.
He said: "Like any other Bill, the Digital Economy Bill will now be considered in the House of Commons. It has received significant scrutiny in the House of Lords and has been debated and considered at second reading, committee stage, report stage and third reading."