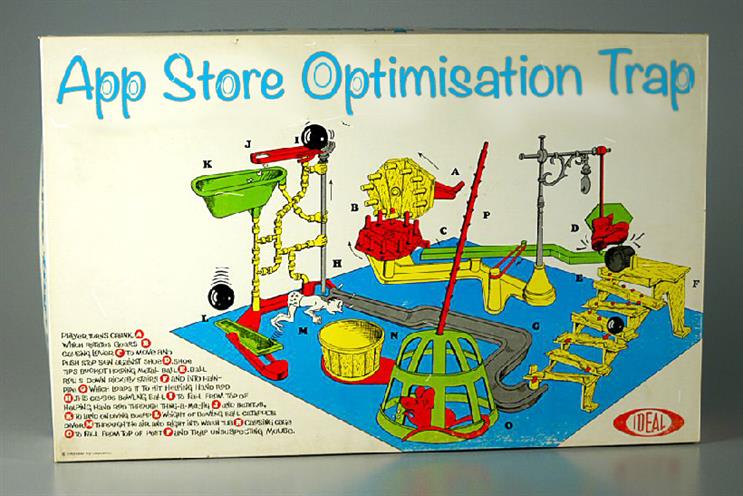 Harry Lang is the former head of digital marketing at Mecca Bingo
@FactDeJour
Do you remember playing Mouse Trap when you were a kid? It was like a tiny version of The Krypton Factor merged with The Crystal Maze in which you had to move round the board and get to a final loop and avoid being trapped in the Cheese Wheel. The graphics were flaky at best, but there were few more nerve-jangling experiences a child could have.
App store optimisation (ASO) is a modern version of the same maddening game. Sure, you can scoot around the board and win in no time if you're lucky/foolish (delete as applicable), but make a wrong move and you'll find yourself in trouble.
ASO is to apps what SEO is to websites. A good ASO strategy will boost your app's visibility in the store and bring more downloads. Like SEO, natural App and Play-Store search is an incredibly valuable channel that can bring down your cost per download to pennies. It might not be the sexiest arrow in a marketer's quiver, but could be one of the most cost-effective, so it's worth investing the time in understanding the rule book.
The best way to be successful in this space is to make sure you have a great product
As with any new channel, the team at Apple (and latterly Google's Play Store) is still finding its feet in terms of creating hard and fast rules for how people can optimise through ASO, meaning incentivised traffic can still slip through the net. You can generate incredible visibility scores by paying or rewarding customers to give you a five-star rating and astounding review.
But this is frowned upon by the Cupertino Massive as 'cheating'. And, as in Mouse Trap, leads to potentially game-ending penalties.
Apple and Google will eventually enforce strict guidelines, ignorance of which could result in blacklisting. With that in mind, it's best to work on legitimate routes to enhanced visibility.
When I recently launched new versions of a bingo iOS and Android app, I reviewed the market with my SEO/ASO manager to see what titles and keywords resonated most with bingo and games customers. We optimised the keywords accordingly.
In addition, we invested in pragmatic video content in the form of a 'How to…' video to educate players on the attributes and benefits of each app and communicated the launch to a selected database of players through CRM and SMS. Within CRM communications we always requested the players reviewed the new app versions to maintain our high star score.
It's never 'job done', as it's necessary to constantly tinker with the user journey, conversion funnel and app UX. Always follow the published advice on how to title and keyword-tag the content during the next upgrade. Like Google, the opportunities and methodology to optimise are changing constantly, so it's worth reviewing with every new published version.
But the best way to be successful in this space, where honest reviews win out, is to make sure you have a great product. So work hard to get that and play the game with the good folk at Apple and Google.