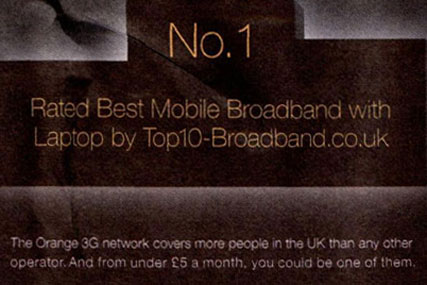 The ad, created by Chemistry for Orange mobile broadband, ran in the regional press in June of last year.
The ad included the copy: "The Orange 3G network covers more people in the UK than any other operator. And, from under £5 a month, you could be one of them."
Three challenged whether the claim of Orange's reach could be substantiated and argued it had the largest 3G network in the UK based on population coverage.
In response to the complaint, Orange said its figures were based on population coverage and not geographical coverage. Orange acknowledged that Three had the largest geographical coverage.
But Orange argued that its own data revealed that it covered 93.39% of the UK population, with Hutchinson 3G UK (Three) at 91%, Vodafone at 85% and O2 at 80%.
However, the ASA stated that the ad's claim was ambiguous in the context of a mobile broadband service because it did not make clear whether it was referring to population or geographical coverage.
The ASA also had contention with the manner in which Orange collected and reported its data.

Orange are not allowed to run the again in its current form.