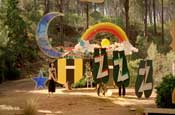 Created by Fallon, the campaign will consist of three separate ads, all of which back one of Orange's offers, Pay Monthly, Pay as you Go and its new music service, Gigs and Tours from Orange.
Shot in South Africa by Fallon, each ad begins with a central character singing a whimsical song to the camera about why they like the service.
As the song progresses, giant, colourful props related to the lyrics are dragged onto the screen to build a theatrical scene.