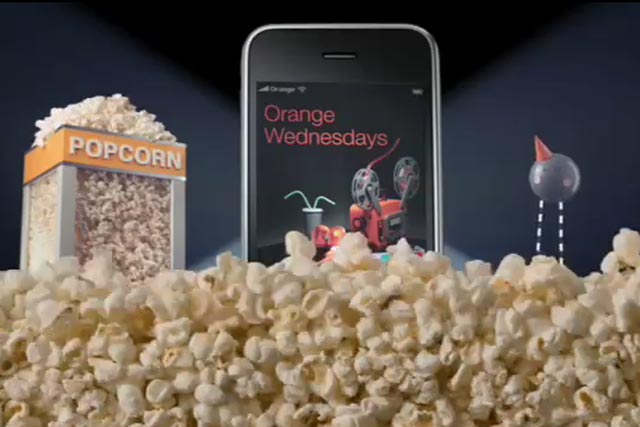 The scheme, called Orange Film To Go, launches on 11 August and is supported by a new campaign, created by Fallon, which will run across TV, print, outdoor, digital, mobile, social media and retail platforms.
The creative aims to demonstrate "film on the move", featuring different scenarios in which consumers can watch films on their mobiles or laptops. In each scene, the sound of popping corn becomes increasingly louder, until there is an explosion of popcorn across the screen.
Orange customers can text the network provider, visit a dedicated Facebook page, www.facebook.com/orangefilmclub, or use a dedicated mobile app to be issued a unique code that can be entered at www.orange.co.uk to download a film.
The films will change each week. The first series of films consumers can access will be 'The Wrestler', 'The Ghost' and 'Che: Part One'.
Orange Film To Go extends the mobile network's association with movies, already evident from its long-running Orange Wednesdays two-for-one cinema tickets offer.
Less than a month ago, O2 revealed a major extension to its Priority loyalty scheme, Priority Moments, the location-based initiative that boasts tie-ups with 30 brands, including French Connection and Harvey Nicholls.