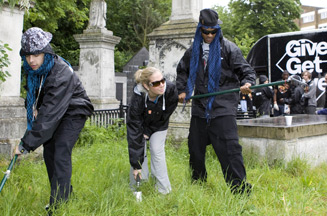 The advertising campaign aims to inspire young people to get involved by celebrating the collective achievement of past Orange RockCorps volunteers, and building on the success of last year's launch creative.
The adverts will include last year's volunteers and echo Orange's brand vision - 'Together we can do more' - by showcasing the positive, transformative difference that people can make when they come together.
The programme is being rolled out to Manchester and will create 8,000 opportunities for people to volunteer in London and Manchester.
In return for four-hours hard graft at up to 150 special community-based charity projects, 2009's volunteers will earn tickets to exclusive gigs with Lady GaGa and N-Dubz in July. Further acts for a gig at London's Royal Albert Hall will be announced in coming months.

The programme will conclude with a series of four-hour projects for 5,000 volunteers in Paris, finishing with a gig at Le Zenith in October.

The campaign will run in July and September to coincide with the gigs.

The Orange RockCorps programme has also signed a partnership with Sony Ericsson and Channel 4, who will broadcast the volunteer work and UK gigs during a summer of programming on T4.