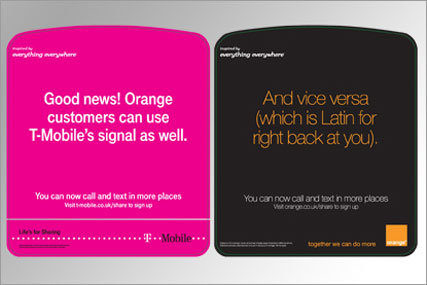 Created by both Orange's incumbent agency Fallon and T-Mobile agency Saatchi & Saatchi, the campaign promotes the newly shared network between the two companies following their merger, and ensuing formation of Everything Everywhere.
The move in May created the UK's biggest communications company and enables the 27 million customers across both networks to make calls and send texts from UK locations at no extra cost.
Ads will appear online, outdoor on billboards, bus headliners, taxis and the London Underground, as well as in the press for the next three weeks.
The campaign features two separately branded ads having a conversation with each other. For example, the Orange ad announces that "T-Mobile customers can now use our signal", while its twinned T-Mobile ad replies "Ditto".
Other headlines include "Orange customers can now use T-Mobile's signal too. Signalfest!" and "Who said pink and orange don't go together?".
The copy "Inspired by Everything Everywhere" is included within each ad to represent that this customer benefit was delivered through the creation of the new company and to help customers understand why they will now benefit from access to both brands' networks.
Spencer McHugh, brand director for Everything Everywhere, said: "This joint above-the-line campaign is a UK first – and shows the unique and unrivalled opportunity Everything Everywhere has to deliver bigger and better ground-breaking customer benefits and campaigns, having brought together two of the UK's biggest and best-loved brands.
"Our two brands already have really clear and distinct personalities and tones of voice so we decided to build on that when considering our 'big idea'.
"We believe our latest campaign achieves this, showing the Orange and T-Mobile brands conversing in a fun, engaging way about how customers will benefit by being part of the UK's biggest communications company."

Everything Everywhere is expected to call a consolidating review of its advertising requirements in the coming months.