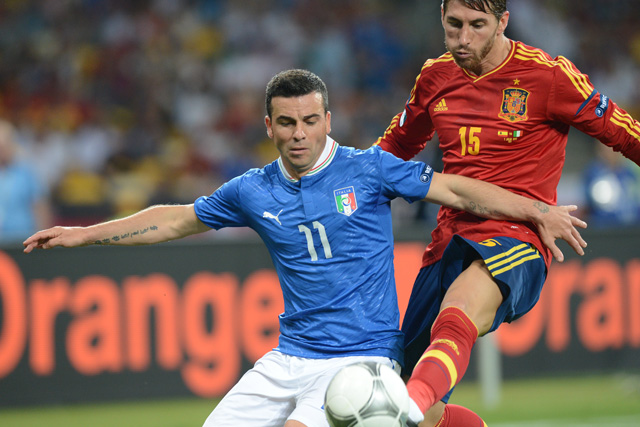 Spain's 4-0 victory against Italy, to claim its third major tournament in a row, was not the only historic feat at this year's European Championships. This was billed as the most connected football tournament to date, and away from the pitch, the biggest challenge for joint hosts Poland and Ukraine was to upgrade their infrastructure to improve mobile and broadcast connections. With the world watching, they could not afford any connectivity problems to occur if they were to make a positive impression.
Measuring the social-media 'buzz' of Euro 2012
Digitalising the experience
John Constantinou (pictured), head of global sponsorships and partnerships at Orange, says the mobile industry is revolutionising its sponsorship activity. Orange built a Euro 2012 app in partnership with UEFA, which was available across 11 countries in eight languages. It was downloaded 2.1m times, and an average of 400,000 consumers used it during each game.
'There wasn't even an official app in 2008, and there was no real social-media presence. The market is changing rapidly,' he adds.
As part of its sponsorship deal, Orange also created a Supporters' Cup site, but not a dedicated Facebook page. 'We look at social as another way of engaging. I'm not a fan of just setting up a dedicated Facebook page for an event, or just racking up "likes" and seeing that as an end in itself; it is more about engagement,' explains Constantinou.
The value exchange
This was an unusual sponsorship deal for Orange. Instead of merely buying rights and using the tournament as a corporate branding vehicle, Orange used its technological infrastructure and services to barter with as part of the package.
'This deal was born in Poland and our Polish team was talking to UEFA about a country-level deal; we decided we could gain value from it on a group level, across multiple markets,' says Constantinou.
Promoting the value of the network
For Orange, which has an underlying business strategy promoting the value of its network, this value exchange provided a platform to demonstrate the reliability and strength of its infrastructure. The project has been a huge logistical challenge for the brand, particularly with the tournament spanning two countries.
This value exchange will be at the heart of considerations for Euro 2016, which will be held in France and include 24 teams instead of 16. As France is Orange's home market, any such deal would pose less of a logistical challenge. The tournament also has to grapple with how best to evolve its lucrative broadcast deals, while developing its own dedicated mobile, social and digital platforms.
As Constantinou notes, 'four years is a long time in mobile', and at the top of his agenda is evaluating how this year's tournament performed against the brand's business plan. The 2013 Africa Cup of Nations is the next event on Orange's sponsorship schedule.
Constantinou is focused on ensuring the brand retains the right balance between global, local and pan-European sponsorship deals. 'At the moment we retain a genuine focus on what works locally, and I am very proud of that,' he insists.
As the analysis of performances on and off the pitch begins in earnest, Orange will now look closely at what it can develop for future tie-ups. 'Bringing all our European markets together has been a huge internal learning,' says Constantinou.
The increased focus on digital activation and building dedicated digital apps is only the start of the journey, he adds. 'UEFA works in a very traditional manner; we challenged that and it was a great learning experience on both sides.'
Three Lions, no goals
What the Football Association has learned from England's lacklustre performance in the tournament remains to be seen. While some UK marketers have expressed concern that many of the players lack the cross-generational star power of David Beckham. Constantinou argues that UK consumers' love affair with football shows no signs of wavering.
'In the UK market they love to moan about the team, but they will continue to be one of the most passionate markets in the world,' he says. Whether this passion can translate to success on the pitch, however, is far from within Orange's control.
THE BUZZ OF EURO 2012
Source: Precise Brand Insight
Adidas, McDonald's and Orange were the most successful brands in terms of social-media mentions during Euro 2012. However, increased use of social media by brands does not guarantee increased chat, according to exclusive research, conducted by monitoring firm Precise during the group stages.
The findings reveal that, while these three brands led the way with 29%, 17% and 15%, respectively, of social-media conversations in English, Euro sponsors drove a lower volume of conversations compared with those of the FIFA World Cup in 2010. This is despite the rapid growth in social media in the past two years.
Sponsors of both tournaments, such as Adidas - the subject of the highest volume of conversations during both - generated less than half the level of buzz in the Euros compared with the World Cup. While the difference might be attributed to the greater scale of the World Cup, James Withey, head of brand insight at Precise, warns companies should not rely on the popularity of social media to guarantee ever-increasing chat volumes.
In addition, volume of buzz should not be looked at in isolation, he says. About one third of Adidas and 70% of McDonald's mentions were user-generated, while most of Orange's came about after people read articles on the official tournament app, delivered by the brand.
Arguably, any social-media mention has some value for that brand, but mentions within an organic and user-generated opinion are likely to be of greater value than a simple news retweet, adds Withey.
UEFA'S 'RESPECT' CAMPAIGN
The dark side of the beautiful game was placed into sharp focus by the European Championships. The Panorama documentary Euro 2012: Stadiums of Hate highlighted the issue of racism and anti-Semitism in Ukraine and Poland. This put the tournament, and, by association, its sponsors, under considerable pressure.
UEFA reacted quickly, placing its 'Respect' campaign at the heart of the tournament, and has not shied away from the issue.
'We put our faith in UEFA and there haven't been the issues that some predicted,' says John Constantinou, head of global sponsorships and partnerships at Orange. 'An event such as this is an opportunity to address these challenges,' he adds. UEFA's campaign included a Respect Diversity initiative, implemented with the co-operation of its partner, Football Against Racism in Europe (FARE).
Paul Elliott, an anti-racism campaigner, who was Chelsea FC's first black captain, said: 'It was important for Poland and Ukraine to be given the Euros, to use the power of football to address these areas. It has been hugely successful.'
Orange stats
226m - customers worldwide
172,000 - employees
35 - countries
Source: Orange