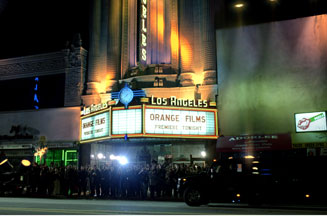 Emilio Estevez stars in the first new Fallon ad, which is a 're-envisioned' version of Hollywood war epic Saving Private Ryan made by the fictitious Orange Film Studios, still led by the characters Mr Dresden and Elliott.
For the first time, Orange has extended the cinema advertising to include a digital campaign by creative agency Poke.
The online campaign spoofs how movies are promoted on the web as if Orange Film Studios' new movie is real. A dedicated website www.orange.co.uk/orangefilmstudios will feature promotional materials about the movie in the cinema adverts, such as ring tones and games Film critic Mark Kermode interviews the producers Dresden and Elliott about the new movie.
The first ad features Emilio Estevez, Elliott and Mr Dresden at the red carpet premiere of Saving Private Ryan's Number. In the film, Estevez plays Captain Parker who forgets to save Ryan's number to his mobile phone and so he and his men embark on a mission to find him. Estevez does not realise the mobile phone has been inserted into the movie and is horrified when he finds out.
Fallon has created three other Gold Spots for this year.