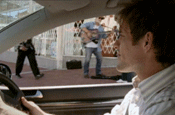 The music was created from sounds experienced during driving the car, including the car door shutting and a man playing guitar outside.
The ad was directed by Scott Lyon, the creator of videos for artists including Mark Ronson and The Zutons.
VW UK communications manager Morna Steel said: "It is all the little things in the car that work so well and when experienced on a daily basis it is these things that add up to make a long and rewarding ownership experience."
The 40 second TV spot will be on air for eight weeks from 11 April, and show in independent cinemas from 5 May.

Does the ad work? Leave your comments below: