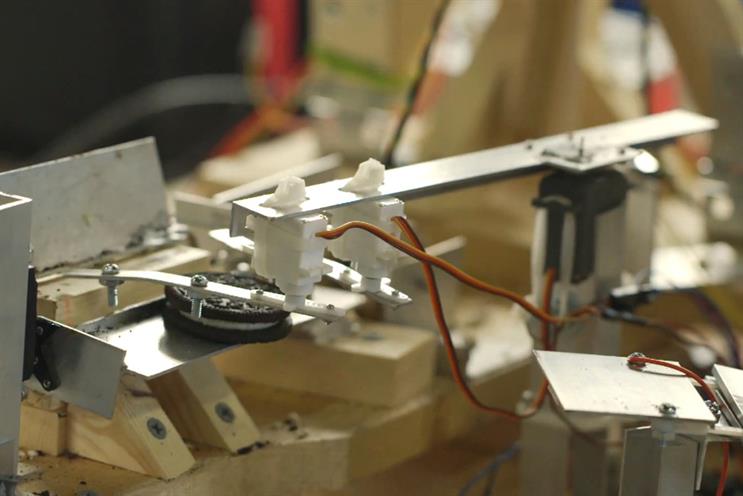 It's just so silly. Yet it's all built on an insight that has been beautifully blown out of all proportion. It could only be Oreo.
Irritatingly, this is the latest in a line of great Oreo work from "you know who" in Portland. The "whisper fight" spot, the Super Bowl-winning blackout Tweet, the Daily Twist social strategy. Even as I write this, I am looking at www.superimportanttest.com through green-eyed Google Glasses.
"Separators" is a series of online films following four creators of unnecessarily complex machines that solve the "problem" of preferring the cookie or creme of the Oreo. I love the way that they believe in themselves and they fully commit. Their logic is flawless, as the best comedy knows the rules of its own universe.
This is evident in HERB, the robot built by science interns – a superior intellect employed to do menial tasks. The over-forceful mechanical hand-squeeze on the scientist's shoulder at the end is all you need to know.
But the jewel in the creme is clearly the story of physicist/Wieden & Kennedy writer David Neevel. The writing is just perfect; all the craft of a W&K 30-second spot left to breathe over four minutes on the internet. Some would say that's an indulgent time-length, yet four million people seem to disagree. If the writing on all online film was as good as this, Old Spice or K-Swiss, we'd be in danger of giving "virals" a good name.
Neevel explains himself in a "lab" that's half-garage, half-survivalist bunker: "One of the hardest things to overcome was to learn how to build robots and make them work, but it was also difficult to keep my hands and the back of my neck warm."
As he shows the audience how he separates the unnecessary creme from his beloved cookie, he goes on to explain the personal hardship that he's prepared to go through for the sake of the product: "It was a big commitment to build the machine. I had to work some long hours, I didn't see my girlfriend or my dog for hours at a time. And I had to try to find a good sandwich in this part of the city. There were a lot of sacrifices."
Christopher Guest would be proud.
Ben Mooge is the creative partner at Work Club