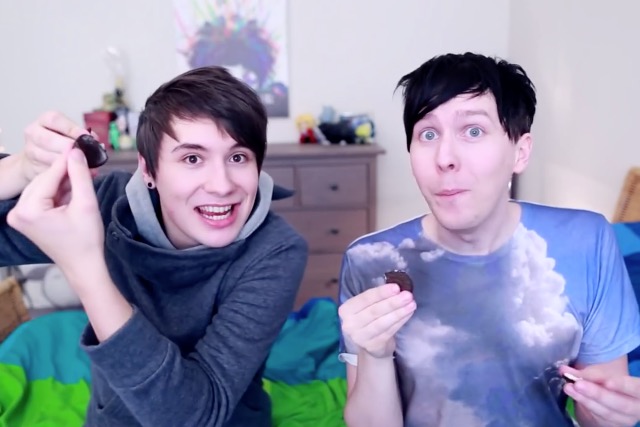 YouTube stars Dan Howell and Phil Lester (who have 2.2 million subscribers on the AmazingPhil channel), Tom Ridgewell (whose TomSka channel has 3.2 million subscribers), Emma Blackery (with 829,000 subscribers), and PF Liguori (whose KickThePj channel has more than 605,000 users), all posted "lick race" content to promote Oreo biscuits.
The ads received a single complaint from a BBC journalist who challenged whether the video blogs were clearly labelled as ads.
One video blog on AmazingPhil was titled "Dan and Phil Lick Race". In the spot, Lester told viewers: "Hey guys, so I was checking my emails the other day. Then in my actual inbox I saw 'Hello Phil, from Oreo'.
"They sent me this email asking me to take part in an Oreo lick race to settle a long-standing dispute with a friend. Now, I had no idea what a lick race was, but they offered to send me free Double-Stuff Oreos, so I said 'Yes'."
Lester held up two packets of Oreos, with the product highlighted using an illuminating effect. The vloggers then took part in a "Lick Race", during which the product was named repeatedly.
Users who clicked on the "Show More" button beneath the video, would view text, which read: "Check out the Oreo site for more licking action. Thanks to Oreo for making this video possible!"
Oreo brand owner Mondelez said it had not intended to mislead viewers and admitted that the YouTubers had been recruited and paid to produce the content.
The company said each vlogger referred to the fact that they had been working with Oreo, while the description boxes under each of the videos made it sufficiently clear that the videos were ads.
While the ASA acknowledged the "thanks to Oreo" references in the videos and the text in the description boxes below, it noted that as the YouTubers' video channels carried editorial-style content, "the commercial intent would have needed to be made clear before viewers engaged with the content".
The watchdog ruled that the style of the ads was in keeping with the typical output of the channels and that the "thanks to Oreo" statements in the videos and description boxes was "insufficient to make clear the marketing nature of the videos because, although they might indicate to some viewers that Oreo had been involved in the process, they did not clearly indicate that there was a commercial relationship between the advertiser and the vloggers".
The ASA concluded that the ads must not appear again in their current form. It told Mondelez to ensure in the future that the ads using this content medium made their commercial intent clear prior to engaging with consumers.
UPDATE: Since the ASA issued its ruling, the vloggers have changed their video descriptions to say: This is a paid for advertisement" and included overlaid tags on-screen stating that the content is advertising.