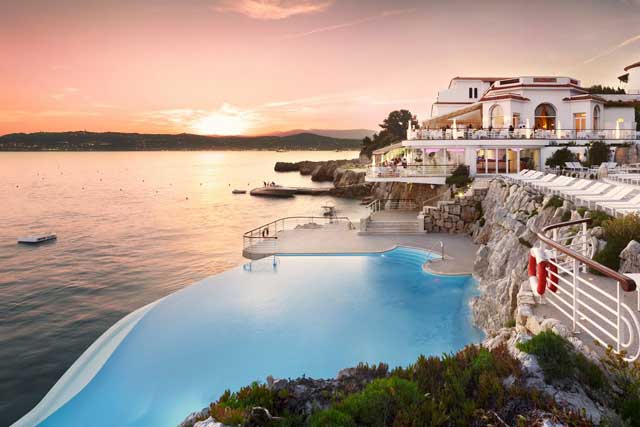 A is for advertising awards. Purportedly the festival's raison d'etre. This may actually be true.
B is for bullshit. There are bags of it to go round in Cannes. Fill your boots. Unlike the drugs, the bullshit is free and you can have as much as you like without trying to chew your own face off.
C is for creative director syndrome. A condition that turns normally dour creative directors into bollock-baring life and soul of the party. Other symptoms include lavish promises of employment to anything blonde and expensively pale linen trousers heavily marked with noticeable, penny-sized piss stains.
D is for Domaines Ott. The official booze of the festival. One glass makes the sun shine brighter; three glasses and all of a sudden you're on to your fourth bottle, with sick on your T-shirt and a stranger inside you.
E is for Eden-Roc. The private pool of Hotel du Cap, where an eye-wateringly expensive admission fee deters all but the most financially flamboyant. You could, of course, chance it by swimming in from the ocean and clambering over the rocks to gain free entry, but try not to leave bloody streaks from your lacerated feet when you limp to the bar.
F is for fille de joie. In particular, the increasingly frail, leopard-skin-clad mother-and-daughter double act that used to creep along the shadows of La Croisette in search of Guy Moore. They never found him and, indeed, may well be dead by now. If they are, I'm 100 per cent sure Guy Moore didn't kill them.
G is for Gutter Bar. Dante Alighieri first wrote a guide to the Gutter Bar in the 14th century, and it is a rollicking good read if you want to gen up on the place before you go.
H is for Hornby, J. You'll see him at every major industry party. He won't be able to see you, however - not by this point, not with those crazy rolling eyes.
I is for ignorance is bliss. Fundamentally, you do not need to know the origins of that stain on the back of the shirt you wore last night. Under no circumstances sniff it to find out.
J is for juries. Elderly creatives will tell you what an honour it is to judge the Lions. They actually mean this, right up until when they are forced to spend a week in a hotel basement listening to thousands upon thousands of radio advertisements in languages other than their own.
K is for knowing when to go to bed. Trust me, they are all laughing at you.
L is for Lawson, P. The fair-skinned chief executive of Leo Burnett London and deputy chief executive of Leo Burnett Group is notable for the extraordinary cerise colour of his face during Cannes. It is one of the highlights of the festival and has been known to draw crowds, so get there early.
M is for money. Don't take any. Seriously. Other people will pay for things. Weird, but true.
N is for novelty glowing shit. There are throngs of street sellers touting all sorts of glowing stuff that looks really cool when you're off your tits. Do not try to eat the neon liquid inside, however. It tastes real bad.
O is for ostentatious display of corporate wealth in the midst of a double-dip global recession.
P is for pool party. You will undoubtedly be invited to at least one during your sojourn. For the love of Christ, do not go in the water. Many advertising people have been in the pool before you, and many of those advertising people have the sexual proclivities of Bonobo monkeys. The gloriously inviting, sun-dappled "water" you are seriously eyeing up over your third glass of d'Ott actually consists of 8 per cent H2O, 16 per cent urine and 76 per cent hepatitis C.
Q is for queuing for a pee. Don't. You won't get in to the toilet, and why should you? There are tall, blonde foreign people in there having bum sex and snorting coke, you selfish fuck. Go piss on the beach like everyone else.
R is for return flight home. An ashen-faced, broken-souled journey where the etiquette is to not look anyone in the eye, not at all, not ever.
S is for shrieking "don't you know who I am?" At the top of your voice. In front of pretty much every single advertising person from around the world. As you are physically ejected from Eden-Roc for not paying. While wearing a white rhinestone thong-monokini that's riding up the crack of your bottom as if your arse hasn't eaten for a week. This actually happened and is a rather beautiful microcosm of Cannes, and makes me strangely happy.
T is for toes. Jim Bolton once woke up on the public beach, fully suited and baked to a crisp, unable to work out why he was crying. It was only when he tried to stand up and walk back to his hotel that he realised he had broken both his little toes when falling through the wicker chair he had been dancing on the night before.
U is for "Urgence! Je suis malade, ou est le consulat?" A simple phrase, to be learnt off by heart.
V is for vanishing parties. In the olden days, extravagant corporate shindigs would roam these parts like Swarovski-encrusted dinosaurs with a swagger on. Traktor's party, Leo Burnett's do, Finger Music's soiree ... all gone now. Never mind, though, I got a really nice invite to the Ogilvy & Mather one the other day, so it can't all be bad.
W is for "what happens in Cannes stays in Cannes". Oft-repeated, and a truly terrible lie that should instead read: "What happens in Cannes gets up real early on Saturday morning and catches the first easyJet flight home before there has even been time for you and your head of new business to wipe yourselves down."
X Y Z are for despite all of that above, where else can you see such a butterfly spread of delightful creativity in the sunshine?
A VOYAGE INTO THE UNKNOWN
Well, there aren't many things I haven't tried. Apart from the obvious. But Cannes has always been something I've avoided. A frivolous week of navel-gazing and gin-guzzling is how I've always seen it so, thus far, I have resisted its temptations.
I usually spend the week harrumphing about those who "have the time" to go, while I get on with the day job. I hope the combination of my high-handed posturing and fierce work ethic disguises the fact that I am increasingly intrigued by what happens in Cannes, despite my grumpy naysaying.
I'm going this year, so I can be transparent about my keenness to discover what all the fuss is about. Yes, the Campaign party is high on my agenda, as I love to see industry peers drinking, dancing and being thoroughly indiscreet. I, of course, limit myself to my customary single port and lemon, especially on the school nights.
I know the pool parties are legendary and, although I want to see them in action, I live in dread of being pushed in - chlorine plays havoc with my hair, for one thing. Seriously, for anyone tempted: once I've dried off, I will find you!
I am intrigued and appalled - but mainly appalled - by the Gutter Bar. Evenings here sound like the fall of the Roman Empire (and not in a good way), though part of me still thinks it might be fun. I'd also like to fit in an evening of fine-dining at La Colombe d'Or - a major attraction for me. However, I can't see myself doing both.
I've decided that this is the year I test my prejudices, take one eye off the BlackBerry and immerse myself in everything the festival has to offer. I will have our new executive creative director, Elspeth Lynn, for company too, which is a major plus. I can't argue with the fact that some of the greatest creative work in the world is shared and celebrated, plus the concept of a global, creative festival is a sound one.
I will soak up the creative buzz, network like crazy, stay up late and see as many seminars as possible. My guilty secret? I'm most looking forward to Debbie Harry's appearance. I'm sure I will love my first Cannes - one way or another.
Lisa Thomas is the group chief executive at M&C Saatchi.