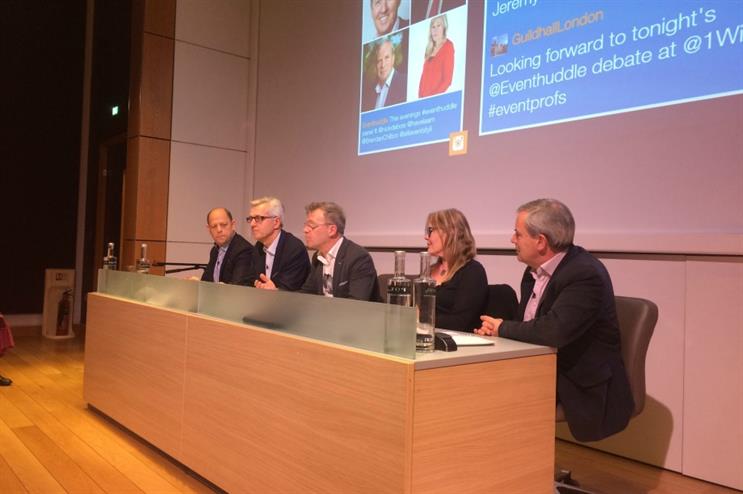 The case was put forward at an Event Huddle session in London's 1 Wimpole Street on Wednesday (13 January).
The panel comprised of ex-MP and founder of Rapiergroup Nick De Bois, Crown's managing director Nicky Havelaar, MCHA's Simon Hughes and Jeremy Jacobs, a broadcaster and conference speaker. GES's Robert Dunsmore filled in for advertised chair Kevin Jackson.
The fifth of its kind, the Event Huddle aimed to determine whether the UK events industry as a whole should support either the campaign to stay 'in' the EU, or the campaign to exit it, before the forthcoming referendum.
One of the panel's main contentions with leaving the union was the prospect of bringing back carnets - the 'passport' goods need when travelling out of a marketplace. "Every piece of kit you import would have to be declared," said Hughes. "It's small but irritating barriers like that that we'd have to contend with [if we left the EU]."
Havelaar agreed: "Every small thing, such as visas, will have a cost. And we have a responsibility to negate any barriers that have cost implications."
Jacobs disagreed that there would be "mounds of paperwork" involved if a Brexit occured, and De Bois, an out-and-out Eurosceptic and member of the Conservative party, pointed out that we would be able to negotiate a new trade agreement with Europe, much like Sweden and Norway have.
He added: "We always talk about the single market. But the single market only operates in goods, not services. [The audience] all provide services. You can't go to Germany and set up an agency as fast as you can in the Middle East, because the EU countries are protective [of their skills sector]."
Throughout the session, De Bois passionately urged UK businesses to look beyond the European market. "Why would we want to entrench ourselves in a trade agreement in decline?" he asked. "I want to see this sector align itself with markets that are growing, and you can't do that within the EU."
The UK - no longer a viable destination?
Havelaar questioned whether the entire debate may affect the reputation of Great Britain as a tourist and business events destination. "The UK - particularly London - is extremely popular," she explained. "If there are any barriers it would be perceived as a problem, and [clients] will vote with their feet."
Yet De Bois contended that as the UK is not part of the Schengen agreement, the country is already harder to do business in and travel to than mainland Europe. He said: "That's the problem. We need to make it less difficult to come across here, and we don't need to be in a big trading block to do that."
Perhaps unsurprisingly the panel failed to come down on one side of the argument - however all agreed that there needed to be more information made available to businesses on the matter before the referendum takes place.
De Bois was particularly wary that the vote may be held at a time of heightened national tension over security and immigration. And Havelaar added: "There's going to be a lot of people voting emotionally."
The Event Huddle ended with a member of the audience calling on an organisation, such as London & Partners, to create a definitive list of the pros and cons associated with leaving the EU especially for the events industry.
David Cameron has promised an in/out referendum on EU membership by the end of 2017.
More: General Election 2015: Event profs welcome Tory win
Life after Paris: How the UK event industry is reacting to terror

Comment below to let us know what you think.
For more in-depth and print-only features, showcases and interviews with world-leading brands, don't miss the next issue of Event magazine by subscribing here.