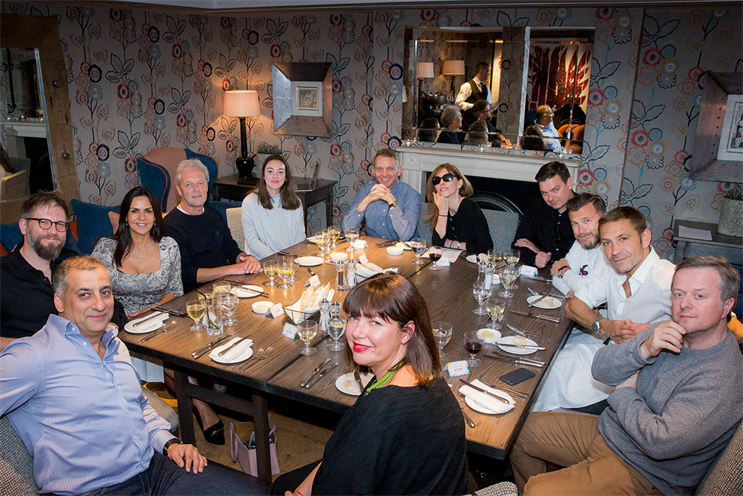 Primesight, Talenthouse and Campaign devised the "Make an Impression" challenge to offer small charities free outdoor advertising, while showcasing the great work of upcoming creatives. We asked creatives to design eye-catching out-of-home posters, and a panel of judges picked three standout entries to appear on sites around the UK.
Over dinner, the judges did not shy away from criticising the calibre of today's OOH work – and the creatives responsible for it. Ogilvy & Mather London's chief creative officer, Mick Mahoney, summed up the feelings in the room: "I'm happy to go on record saying the average poster is terrible. People have forgotten how to communicate through posters."
The OOH medium is what everyone around the table does – so, far from holding responsibility at arm's length, the focus for the evening was to take action.
'Simple, distilled thought'
Campaign's Claire Beale, chairing the discussion, kicked off by comparing classic poster campaigns with some more recent offerings. She put it to the group: "What the hell makes a great poster?"
Chad Warner, integrated creative director at McCann London, responded: "For me, the best out-of-home campaign of the past ten years is Apple's 'Shot on iPhone'. Instead of selling iPhones, it's about contributing to art – using the medium to make the world a little more beautiful for a second."
Matt Lever, deputy executive creative director at VCCP, argued that more than that, the simplicity of using user-generated content, at a time when it had not been done before, made Apple's campaign resonate globally. "If that campaign hadn't been created in-house, it would never have been created at all," he said. "There are very few big agencies in the world whose creative directors would have the balls to run something so pure and reductive."
Has the industry fallen for an old mistake in thinking that more is more? According to our judges, the secret to great OOH work lies in simplicity. More creative "balls" are required to hold back.
As Sam Ball, executive creative director at large (formerly at M&C Saatchi London) argued, the general public will do a lot of the work for advertisers. "You have to write something that will resonate with the zeitgeist," he said. "It might start on a poster but it ends online, on social. Posters will be famous not because people saw them in situ but because people talked about them."
The problem starts at the beginning – with the media brief. The creatives expressed frustration that plans are dictated to creative teams – clients set a certain amount of space and channels to fill before they do anything. Creatives are not in control so how can they be expected to produce great work?
Media agencies must be able to repackage their offerings – and change their pitches. It will lead to better collaboration with creative agencies and better work.
As Andy Tilley, chief strategy officer and creative partner at Talon, said: "It starts with target audience, budget, key performance indicators, reach; this closes down all the thinking. The best brief I have ever had was Harley-Davidson's 'Freedom'. A simple, distilled thought – the brand idea. It makes the ad come alive."
John Treacy, executive creative director at Proximity, agreed: "There is an emphasis on creatives telling a huge story with the idea but not being forced to boil it down into simple expression. It's not that they cannot do it, but now they have so many toys to play with, the essence of an idea in a line is lost."
All of them concurred that the difficulty of the creative task is not to be underestimated. Not only is the job more complex and demanding, but deadlines are set in days rather than weeks. As Mahoney noted, the question now is: "How good can you be in the time you have?" It is a big problem.
Discipline over demand
According to Mahoney, a little education would go a long way. "People have forgotten the purpose of posters," he said. "On my motorbike, I pass hundreds of posters with so many words that I have no hope of reading most of them. When the media plan comes in, most creatives have no idea where that poster will go – whether people will walk or drive past."
So is basic discipline going out of the business? In a market defined by demand, and operating at speed, is simple good practice being forgotten?
The problem, according to Tilley, is that the medium has become too complex.
"Juniors come to me with 'a great tech idea'," he said. "I'm not interested. Tech is
an enabler. Show me the idea, and we'll help you use the tech to enhance it. That's where it gets interesting."
Warner puts the onus on clients, who "live on KPIs and clickthrough rates and want to see something interactive". By contrast, he argued, outdoor's simplicity is fantastic.
"Media owners need to come into my agency and show my creatives the creative opportunity. Show me the stuff that inspires them."
Commerce – the enemy of creativity?
So how can advertisers achieve interaction at scale and speed? It starts with recognising what true innovation is.
The group criticised what they thought was gimmicky work that has dominated awards in recent years. Mahoney said: "I see a lot of the use of innovation in digital OOH in those 'one-offs' that are just primed to win something at Cannes. You walk past and the dog weeps… it is just bullshit."
Ball agreed: "All people care about is winning awards – agencies are terrified of losing business."
So when all the focus is on winning and money, do creatives produce worse work? Does commercial focus stifle creativity?
"Yes it does," Ball said. "I've worked at an agency where it was all about money – it made us less brave, more worried about pitching, more worried about losing pitches. I think agencies are more timid than ever."
These added pressures can affect confidence and make creatives neglect day-to-day work. "Creative directors should remember that clients are happy for them to do pure OOH," Warner argued. "So let's make sure every piece is brilliant, pure and Paul Rand-like. Focus on creativity and creatives – and everything else will follow in the long term."
Maya Bogle, co-founder of Talenthouse, argued that too much money is pumped into ad tech. "What freaks me out," she said, "is there isn't an agency group in the world investing the same money in the creative. But it's wrong to think that you need to add more creatives to produce more work. You need fewer, better people creating better umbrella ideas."
Look no further than this year's D&AD festival – which some present referred to as a "total shitshow" – and Bogle's claim is backed up. According to Treacy, many of the entries seemed to be straight from the archives, including a drink-driving poster with blurry writing placed behind a pint glass. "Was it the average age of the jury, unaware of the work – or was the standard this year just that bad?" he asked.
Should creatives, as VCCP's Lever argued, take responsibility for their own creative education? "We schooled ourselves," he said. "Agencies once had in-house libraries full of fantastic creative work. That's gone. Creatives in our company have novelty biscuit tins rather than D&AD books on their desk."
Those at the table agreed that this responsibility is shared with industry leaders, to provide truly educational environments. They concluded that inspiring a diverse range of upcoming creatives to produce the right sort of work, and crucially for the right reasons, is the next big challenge for creative directors. Managing the demands of a digital world is the start, but upholding the integrity of the craft – creativity itself – is at the heart of the issue.
Around the table…
(Clockwise from front left) Naren Patel, CEO, Primesight, Chad Warner, integrated CD, McCann London, Maya Bogle, co-founder, Talenthouse, Andy Tilley, CSO and creative partner, Talon, Eleanor Kahn, content producer, Campaign, John Treacy, ECD, Proximity, Claire Beale, global editor-in-chief, Campaign, Matt Lever, deputy ECD, VCCP, Sam Ball, creative director, M&C Saatchi London, Matt Teeman, managing director, Primesight, Mick Mahoney, CCO, Ogilvy, Nicola Roberts, ECD, Bray Leino