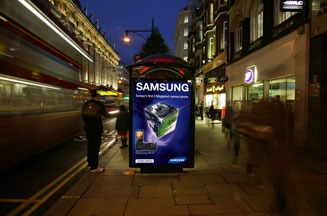 In what must be one of the biggest cases of over-statement since Gordon Brown declared that he had saved the world, the chairman of last week's Outdoor Advertising Association (OAA) conference Nick Hurrell, partner at Hurrell, Moseley, Dawson & Grimmer, announced that the event was 'outdoor's answer to the G20'.
There is significant proof that the outdoor industry is in need of some structural help, not least the fact that the event was held over a single afternoon in Battersea Park last Thursday. A simple comparison with the last OAA conference in 2004, a lavish affair, spread across three days in Barcelona, indicates cutbacks and a severe scaling-down.
However, the event's organisers are adamant this austerity was a positive choice, rather than one they were forced into. Tim Bleakley, managing director of sales and marketing at CBS, claims: 'That style of conference has run its course and it was decided that it needed to be more seminar-based. Holding it in London will also attract a better attendance.'
The challenges that outdoor faces are clear. The number of ads promoting the industry and its media owners, as well as ads on poster sites for events that have long since passed, point to problems in selling inventory.
Meanwhile, digital screens appear repetitive, with some rotating between only two or three advertisers. Figures from the OAA show that revenue last year was down year on year in each quarter. Annie Rickard, chief executive of Posterscope, believes it could be 2015 before revenue returns to the levels recorded in 2007.
The conference was, therefore, supposed to be a chance for the outdoor industry to shout about its capabilities, discuss how to deal with the problems ahead and convince advertisers not to see it as the easiest platform to cut from marketing plans.
Although the organisers claim that 110 advertisers booked tickets for the event, estimates suggest that the actual number of client attendees was 75 out of a total of 570 delegates. Based on this figure, it could be argued that the outdoor industry was talking largely to itself.
However, the advertisers that were there put forward the view that there was important information to be had. Kathryn Gregory, UK marketing manager at Air New Zealand, says she attended to keep up with the latest technology in outdoor, with the medium forming a key part of the airline's marketing. Jo Bladen, executive marketing director for Disney home entertainment, adds that she found talk of flexible campaign options interesting, as they indicated a shift away from the traditional 14-day campaign postings.
As with 2004's event, this year's conference focused on outdoor's capabilities. The medium now offers technology that allows consumers to smell ads, interact with digital screens or text a direct response for offers or information. With these advances, outdoor is striving to be seen as a strategic, rather than tactical, medium. However, although this investment in development by outdoor media owners has been going on for several years, 99% of outdoor campaigns continue to use traditional posters, making the returns seem a long way off.
Chris O'Donnell, business development director at Kinetic, says the industry is lagging because it is not marketing itself well enough. 'Outdoor is only seen as strategic by a few advertisers,' he adds. 'The current platform has been doing well, so they think, why change?'
If, as Bleakley claims, the object of moving the conference to London was to boost its appeal to advertisers, it failed. If outdoor is to become a truly strategic platform, as its stake-holders hope, it is the advertisers who must drive it there. To pull them in, the industry is going to have to come up with something more substantial than Battersea on a sunny afternoon.