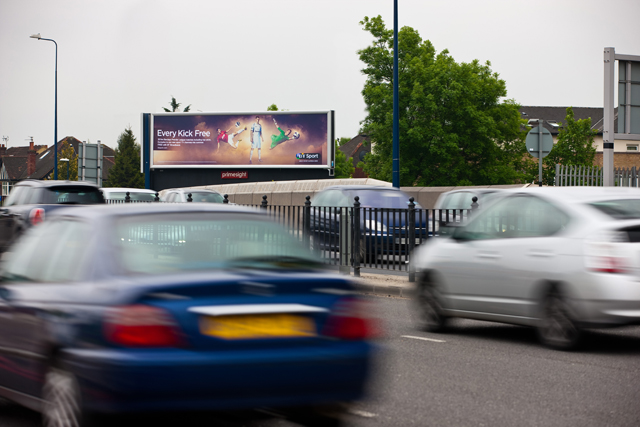 Campaign: "Every kick free"
Media owner: Primesight
What was the idea?
Having won the rights to televise live matches from the Barclays Premier League, and in particular 18 top-pick fixtures for the 2013/14 season, BT was looking to run an outdoor campaign to launch BT Sport and promote the fact that the new channels could be viewed free by BT Broadband customers. The company also wanted to communicate the exclusivity of the fixtures and highlight the fact that, for the first time, a broadcaster other than Sky had rights to top-pick matches.
What was the strategy?
The first of two four-week campaigns was set up to drive awareness of the launch of the BT Sport channels and the fact that they were available free with BT Broadband. The channels' launch, in August 2013, was supported by another running before, and during, the early games of the new season to drive awareness and subscriptions.
How did you use outdoor?
Targeted billboards were positioned around football and rugby stadiums in each four-week burst to coincide with the end and beginning of each season, to give context and credibility to the creative message for sports fans. This was supported by a much wider broadcast outdoor campaign to inform the general public that BT Sport is the new channel for football, rugby, tennis and much more - and it can be acquired free with BT Broadband. Primesight's Primemobile research tool was used to measure the effectiveness of the campaign. The results have been impressive, with visits to the advertised URL peaking at 1.25m during the campaign measurement period.