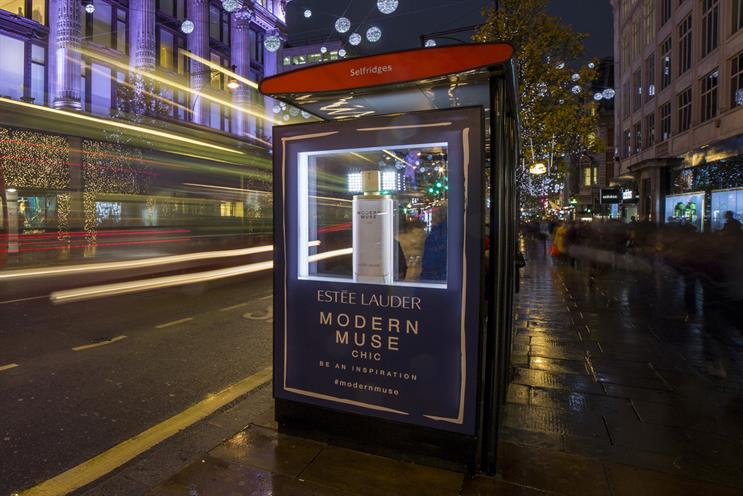 What was the idea?
Our newest fragrance, Modern Muse Chic, is inspired by the intriguing duality of today's woman,and complements every aspect of her dynamic and feminine life.
Duality is also part of the packagedesign: a strong, tall, luxurious, glassbottle with soft, rounded sides. In attitude: modern drama with classic accents reinterpreted. Our aim was to demonstrate these contrasts, an important part of theModern Muse experience, and create a compelling visual surprise.
It was crucial to stand out in the lead-up to Christmas and create an affinity with the fragrance in a beautiful and creative way.What was the media strategy? The focus was on a contemporary, savvy, confident woman who inspires with her unique sense of style. We recognised the importance of art and culture to our audience and, with our agency, created a strategy that 'heroes' the bottle in relevant environments. This formed an integrated digital, VOD, TV, print, sampling and OOH plan.
How did you use outdoor?
Outdoor was integral to delivering the campaign. We carefully selected key locations throughout the UK and ensured consumers would see four sites at any given time in order to capture different elements of the Modern Muse Chic story. Most excitingly, we took over three bus shelters in key cultural areas in London, including sites with close proximity to the Victoria & Albert Museum and Saatchi Gallery, both of which featured installed replicas of the Modern Muse Chic bottles and six-sheet wrap.
The key point of difference for the bottle is the studded bow, which was illuminated with LEDs. These were in high-traffic areas, in proximity to cultural hubs and key retail destinations.