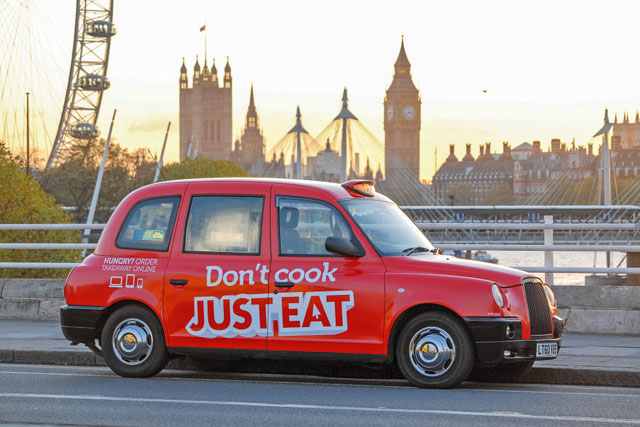 What was the idea?
Sorting out what you'll have for dinner on your journey home is the dream for many a busy Londoner. Making NFC technology available inside these special cabs makes it simple for passengers to download the Just Eat smartphone app and order food from one of thousands of local takeaway restaurants during their journey, so a delicious meal can be ready and waiting when they arrive home.
What was the media strategy?
We wanted to reach people at exactly the moment when they could be thinking about dinner. The creative in the taxis asks passengers whether they're "Running on empty?" and prompts them to download the Just Eat app via the in-taxi NFC tag. It supports Just Eat's key message – to maximise customer convenience and enhance the takeaway experience.
The liveried taxis form part of a multimedia campaign, including Underground and TV activity.
It has also been supported via social media, where people can win a takeaway treat by tweeting their best excuse for ordering takeaway to @JustEatUK using the hashtag #notcooking. The best tweets win a £25 voucher code.
How did you use outdoor?
Just Eat and Ubiquitous are using a variety of mechanisms to capture the attention of Londoners. An exciting livery grabs the attention of the public on the street, while what's happening inside the taxi maximises engagement with passengers.