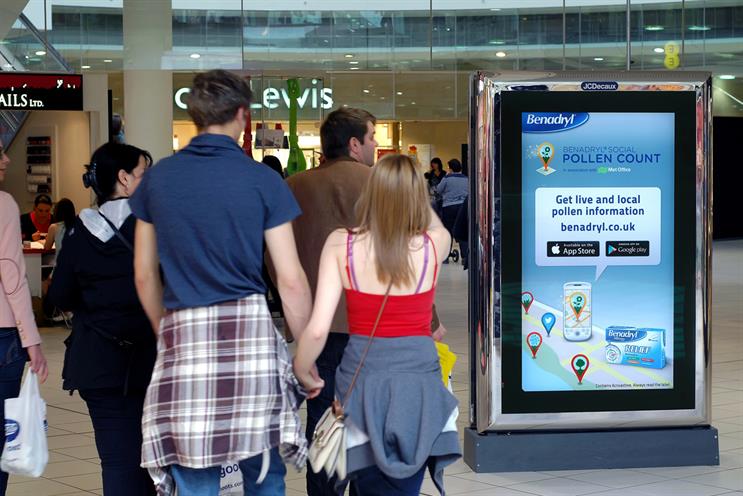 The outdoor industry hopes that 2014 will be a transformative year as it uses big data to sell brands access to audiences with the accuracy, relevance and timeliness of TV, radio or the internet.
Last year saw the introduction of Route, which claims to be the biggest and most accurate consumer research study ever undertaken in the UK. Route offers unprecedented levels of data about how the public move around and which billboard sites they look at. Costing the industry £19 million, the movements of nearly 30,000 people were tracked via GPS.
Media owners and agencies are now busy overlaying Route with additional data – for instance, from Tesco Clubcard and EE – as they compete to outdo each other by offering brands the most powerful insights.
JCDecaux is poised to launch SmartScreens – digital billboards backed by data – at 400 Tesco stores, which will fuse Route data with the retailer's information gleaned from its Clubcard. This will allow brands to run poster campaigns at the most appropriate time of day, day of the week and location, according to which audiences are most likely to respond to them.
As Dave McEvoy, JCDecaux's marketing director, says: "We are not offering poster sites. It's a channel where you buy an audience."
Meanwhile, Carat's out-of-home media agency, Posterscope, has tied up with EE to use the data it has on how its customers use their mobiles in different locations.
The EE data will be fused with that from Route to enable Posterscope to locate, for instance, bus stops where people tend to play a lot of mobile games – thus making the shelters attractive to computer-game advertisers.
Posterscope's chief strategy officer, James Davies, says: "2014 will be a year when data creates a step change in outdoor planning. It comes down to what data agencies can get their hands on."
Davies believes it is important to have the right tools to get the most out of Route. While using its standard off-the-shelf system "will only get you so far", fusing Route with other data helps uncover value "that would otherwise be overlooked".
The outdoor industry has fared well over the past few years, exceeding its goal of becoming a "10 per cent medium" (its aim to capture a tenth of all display advertising revenue), according to figures from the Outdoor Media Centre. These show 2012 revenues hit £971 million, bolstered by the Olympics. Figures for 2013 are expected to be even higher. Digital screens now account for about 23 per cent of revenues.
Some believe that data is helping the industry become more professional and improve its offer to brands after a concerted push to escape its downmarket reputation.
Boosting the use of data is a key part of outdoor's attempts to rival other media. According to Gideon Adey, the business development director at Kinetic Worldwide, Route has shown the industry where target audiences actually see billboards, getting media owners and agencies "addicted" to data: "It propels us into having to get very savvy at handling vast amounts of data. Once you start getting data, you start focusing on the bits you don't know, which is why people are bringing more data to the party."