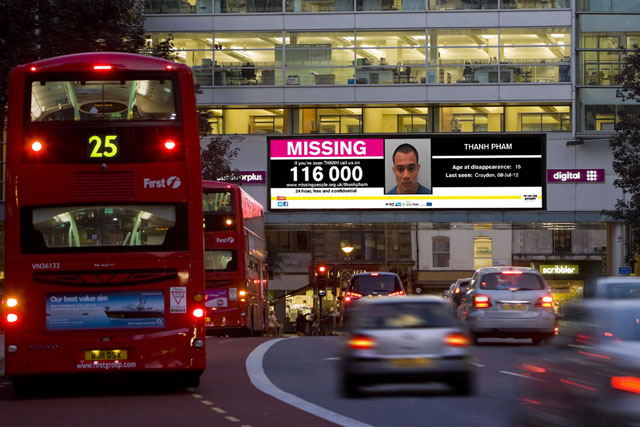 The £1m campaign started last July and so far the digital outdoor ads displaying pictures of missing people have helped to find 59 people. The charity claims it has also more than doubled the average number of calls it gets in a month.
As part of the expansion of the campaign, Missing People will use the OpenLoop serving system from digital outdoor production company Grand Visual to target the ads to individuals' home towns or areas where they were last seen.
Grand Visual was responsible for the creative
The campaign will include activity in London, Birmingham, Manchester and Glasgow and is supported by JCDecaux, Clear Channel Outdoor, CBS Outdoor, Primesight, Ocean Outdoor, BlowUP media, MediaCo, Outdoor Plus, Signature Outdoor, Forrest, Eye, Admedia and Amscreen.
Ross Miller, the director of supporter and communications at Missing People, said: "The public response to the campaign so far and the results this has delivered have gone beyond all our expectations.
"The OpenLoop dashboard makes the delivery of location specific Missing People appeals extremely easy to execute, keeping the campaign responsive and timely, so we can react within minutes to any new information and sightings we receive."
The anticipated total value of the media space donated between July 2012 and the anticipated end of the campaign in June 2013, is £2.88m.
Follow @MaisieMcCabe